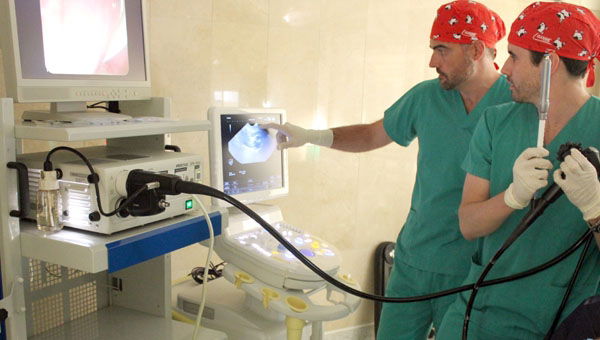 TO take samples from tumours in the digestive system, risky incisions are no longer needed.
The specialist in the Digestive System at the International Hospital HC Marbella, Dr Cristobal Albandea explains that "sectorial endoscopy has allowed the development of puncture aspiration with fine needle (PAAF) for biopsies in the digestive and extra digestive structures with the rate of surgical complications lower than one per cent".
"This is possible because the echoendoscopy (an endoscopic tube that incorporates an ultrasound scanner on the top) offers a more precise study of the injuries in the digestive system, since it eliminates those factors that can limit the study, such as air or adipose tissue".
Dr Albandea is an expert in the use of this pioneering technique in Andalucia alongside his colleague, Dr Jose Miguel Rosales.
This procedure makes it possible to simultaneously carry out a normal endoscopic exploration and an entire vision through ultrasound scan. It is performed in an outpatient setting, under sedation and can take from 30 minutes to two hours, depending on the area which is intended to study. Depending if it is a high or low echoendoscopy, the preparation is the same as for a gastroscopy or colonoscopy. In the first case, the patient must fast for eight hours, whereas in the second case, it is necessary to thoroughly clean the large intestine with laxatives or enemas.
Dr Albandea states: "it is a reliable technique, with a low rate of complications" and adds that "patients can return to their normal life in less than 12 hours".
The Digestive Surgery Unit of the Hospital HC Marbella works in close collaboration with the rest of medical specialists valuing the problem of every patient to offer the best possible solution.
www.marbellahighcare.com