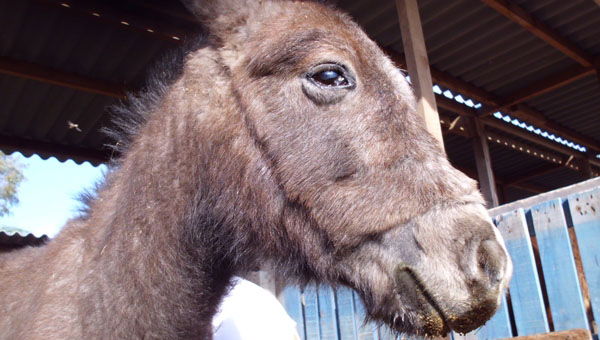 BLINDED, malnourished and worm riddled pony Cruz can look forward to a better life after being rescued.
He was one of a pair of ponies taken in by the Easy Horse Care Rescue Centre (EHCRC)
Both were starving when the centre was called by worried Dave Walsh, who spotted them at Three Crosses in Rojales.
Cruz had been blinded in one eye with a sharp implement. His head collar of baling twine had cut deep grooves into his face and he was so full of worms that he was struggling to breathe as they were pressing on his lungs.
Now he and fellow stray Rocky are getting all the medical care and attention they need at the Rojales based charitable foundation
Mr Walsh had called the centre when he saw a pony on top of a hill when he looked out of his window. By the time ECHRC's Sue Weeding and Miranda Ghesquiere arrived Rocky had led little Cruz down to the bottom of the hill.
Eventually they managed to capture the pair and local police were consulted. Permission was given for the ponies to be taken to the centre as neither of them were micro-chipped.
The smaller of the two was called Cruz for the Rojales crosses where he was found and the other Rocky, after Sylvester Stallone's performance in the Rocky films running up the steps, similar to the steps in Rojales where he led his little friend to freedom.
If you would like to visit Cruz the ECHRC is open every Sunday from 1-4pm, where you can visit him and other horses and ponies currently in their care.