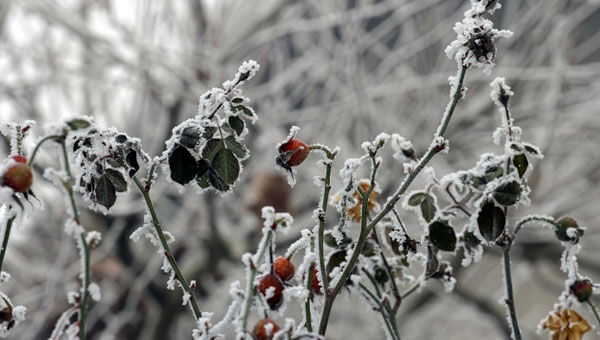 OUR experience is that since the record breaking frosts of 2005 the worst frost each year is getting colder.  Even if thermometers don't actually go below zero the leaves and finer branches of plants can be burnt by air frost, where the wind chill causes freezing on the surface of leaves and bark.
What many people don't realise is that if the temperature overnight read plus 2.5 degrees and there was a wind of only 16 kilometres an hour, a wind factor temperature of minus five can occur that can cause the freezing of sap even on apartment terraces. For this reason we included a wind factor chart in our book Apartment Gardens Mediterranean Style.
In the past seven years we have reduced the number of frost vulnerable plants and taken special precautions with those that we retain including our succulent collection. Reading this week that the UK is likely to experience the coldest winter for a century it could be that we experience the southern edge of that weather pattern whether it drives across the Atlantic or comes down from Siberia. So what can be done?
Move tender plants into the house, a green house, conservatory, inside a covered terrace or a gazebo lined with a large plastic sheet for the winter. 
If cold weather is expected fix the blinds down at the front of covered terraces to give protection
Cover plants that cannot be moved with several layers of frost protecting fleece, bubble wrap or a wigwam of solid plastic sheeting.
Cover vulnerable beds with two layers of woven wind proof material.
Cover rows of winter tender vegetables with fleece, plastic tunnels or cloches. The first to do are your Christmas potatoes as an early frost could ruin this Christmas treat.
In 2005 we discovered that since we do not water or feed vegetables during the coldest winter months the tough slow growing healthy plants survived but neighbouring Spanish vegetables watered and fed weekly even during the winter were largely blackened and died.
Some protection for citrus trees is achieved by covering exposed trees with woven wind beak material. 
If shrubs and trees are frost burnt don't prune off the damaged branches until after the last frosts.
As indicated in a table in 'Growing Healthy Fruit in Spain';
blossom on fruit trees can be lost by a night at minus 2.5 degrees centigrade actual or wind factor,
tropical fruit trees at minus two point five to five, 
many types of young fruit trees at minus five. 
tips of established citrus trees will be burnt at minus five and whole trees including fruit at minus ten,
citrus trees can be killed at minus 20,  many deciduous fruit  trees by minus thirty and even olive trees at minus twenty.
.
So think about this when thinking about what fruit trees to plant. We indicate the best heights above sea level to a thousand metres for some seventy fruit trees in 'Growing Healthy Fruit in Spain'. For instance cherries, raspberries apples and pears will enjoy a thousand metres but bananas and mangoes will not be safe much above two hundred metres.
Yes frosty weather can be great for walking hills for the clear views that winter cold weather brings but not for a Mediterranean garden.
(c) Dick Handscombe www.gardenspain.com December 2012.