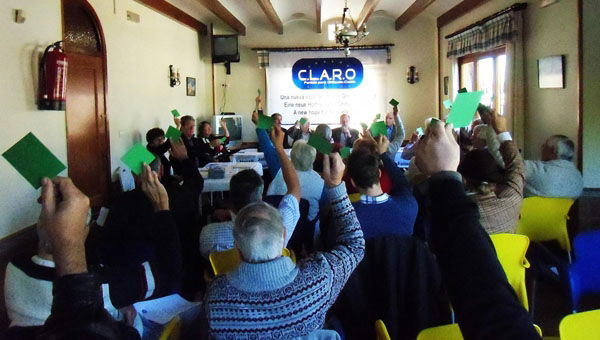 "PREPARE for the future" and "get ready to return to power" were the messages sent out by CLARO at its Annual General Meeting.
It recalled the turbulence of the past year and opposition from the CLR and other parties in the local government which had prevented the CLARO team in Playa Flamenca from carrying out policies of interest to Orihuela Costa, and had led CLARO Councillor, Bob Houliston, to withdraw from the government.
In a unanimous motion the AGM reaffirmed the party's commitment to provide stable and coherent government for Orihuela Costa and Orihuela as a whole on the basis of the PP-CLARO agreement signed in July, 2012.  
The AGM expressed its conviction that a PP-CLARO government would be the best guarantee to improve the quality of life of those living in Orihuela Costa and urged every effort to be made to ensure that the present three party government should cease, without delay, denying the right of a majority in the Orihuela Council to govern.
The AGM considered that CLARO's political strategy of preparing to return to government should be accompanied by a parallel policy of reorganising, renewing and strengthening the structure of the party in order to prepare for the future.
To this end, it was announced that immediately after the Christmas and New Year holidays, CLARO will open a permanent Help and Information office on the first floor of the Asturias Restaurant in Punta Prima.
To ensure maximum benefit from the new Office, the political group will recruit a professional part-time secretary to manage the office and give advice to the public.
New members have already been welcomed and as a final measure and in order to affirm stability and continuity, the AGM unanimously re-elected the existing Executive Committee for a further year.