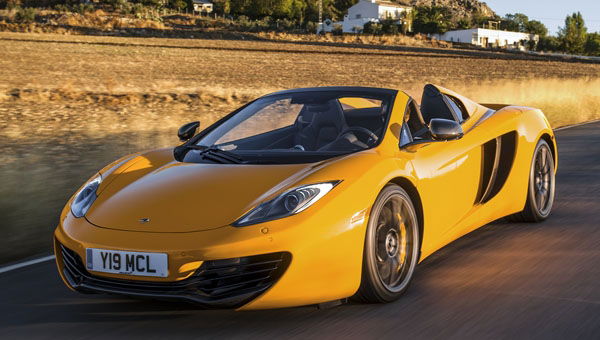 Italian debut of the 12C Spider – new Spider version of highly acclaimed 12C
Developed alongside 12C as a 'pure McLaren' – including revised 625PS 3.8-litre V8 twin-turbo engine
Carbon fibre MonoCell ensures class-leading rigidity, handling and safety
Fully automatic two-piece Retractable Hard Top (RHT) can be raised or lowered in less than 17 seconds and on the move up to 30 km/h
Official retail location represented by Gruppo Fassina at McLaren Milan
The innovative new McLaren 12C Spider will make its Italian debut at the 37th edition of the Bologna Motor Show, taking place 5-9 December. This is the first appearance by McLaren Automotive at the Italian motor show.
Known to be among the most dedicated and passionate fans of Formula 1™ and sports cars, more than 800,000 Italian car enthusiasts will have the opportunity to see, and discover more about the groundbreaking 12C Spider.
The composure of a sports car, the fun of a convertible
The lightweight, mid-engine open-top 12C Spider is mechanically identical to the 12C. It uses the upgraded 625PS engine, which is part of the 12C Model Year 2013 upgrade. Acceleration – 0-62mph (100 km/h) – takes just 3.1 seconds (when fitted with Pirelli P Zero Corsa tyres), the same as the coupé. Fuel consumption and emissions also remain the same, returning 24.2 mpg (11.7 l/100km) on the combined cycle and 279g/km. The figures are much better than most high performance convertible sports cars, in keeping with McLaren's commitment to class-leading fuel efficiency. Maximum speed is 204 mph (329 km/h).
Carbon fibre MonoCell ideally suited for convertible use
As with the mechanically identical 12C, the 12C Spider is a mid-engine two-seat rear-drive high performance sports car. Unlike rivals, it uses a carbon fibre monocoque chassis, the MonoCell. This confers major advantages in weight, strength and torsional rigidity – all improving handling, ride comfort and performance.
The MonoCell is a unique one-piece moulded chassis that weighs just 75kgs (165lbs). It is 25 per cent stiffer than an equivalent all-metal structure and 25 per cent lighter than a comparable aluminium chassis (the difference with a steel chassis is even greater). It is also stronger and safer in a crash, acting as a safety survival cell, as it does in a Formula 1 car.
Retractable Hard Top (RHT)
The Retractable Hard Top (RHT) has been designed specifically for the 12C Spider. Low weight, combined with high strength, was of paramount importance – as with all areas of the 12C.
The fully automatic mechanism raises or lowers the roof in less than 17 seconds, and can be activated at speeds up to 30 km/h (19 mph). It is controlled by a two-position switch on the centre panel within the cabin.
Unique Airbrake provides active aerodynamics
As with the 12C, the 12C Spider is fitted with the unique McLaren Airbrake – an 'active' rear wing that increases its angle to boost downforce and improve stopping power and stability through corners.
The 'active' aerodynamics of the McLaren Airbrake is another Formula 1™-derived innovation – although now banned, as it conferred a substantial performance advantage.
McLaren Milan, operated by Gruppo Fassina Spa, is the sole McLaren retailer in Italy, and was chosen for its outstanding record in providing outstanding customer service. Visitors to McLaren Milan will have the opportunity from now to see the groundbreaking 12C and 12C Spider at the luxurious showroom, located on Corse Sempione 34/2, 20154 Milano.
Commenting on the Italian debut of the 12C Spider, Ado Fassina, Managing Director of McLaren Milan explained: "We are delighted to introduce such a prestigious sports car as the 12C Spider to the Italian market. It is a real satisfaction to see the McLaren range growing year after year, and we are confident that the introduction of new exciting models such as this, can reply to the needs of the fans in this exclusive sector".
McLaren Milan opened on 9 September 2011
Address: Corse Sempione 34/2 | 20154 Milano
Telephone: +39 023564179
Website: www.milano.mclaren.com
McLaren Milan Managing Director: Alessandro Gori 
Visit www.mclarenautomotive.com for more details.