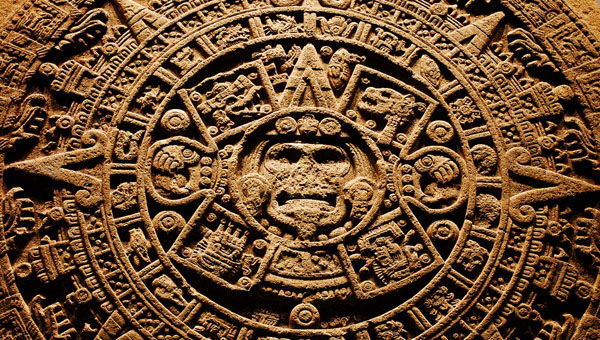 LET me think now. How many shopping days left until Christmas? How many days left until the end of the world according to the Mayan calendar? Umm, looks like I really don't have to go shopping!
Well, the entire Mayan story has been a hoax perpetrated amongst people that just don't read, or better said, research. If the Maya could have predicted the future, why couldn't they have forecast their own demise and ruin some 2,000 years ago? Not a good betting record.
Of all the enigmatic civilizations to be studied the Maya are the most recent and almost daily new findings are altering what was once understood (carved in stone stele) as was their way of announcing events.
Besides inventing the 'zero' and therefore formulating mathematical progressions of infinite understanding probably the most interesting pillars of their belief system was the absolute reliance upon events recurring cyclically. 
A progression of cycles
Those born on a certain day were destined to become carpenters and others on a different day inherited their future vocations and living style. Life was an inescapable progression of cycles affirmed by the heavens and lived out on the lands. 
The Mayan historical myths coincided with their dates established approximately 3113 BC with the present spin ending it's age cycle on December 21 of 2012. To even suggest an "end date" is preposterous, to say the least. But, the "end date" did serve to shed importance on closing one chapter and moving unto the next. Change could occur—just not too quickly.
Modern historical analysis of these gifted and perplexing people has attributed to them more powers and aptitudes than they ever aspired to attain. Yet, this fallacy is easily generated by the discoveries and understandings that they did achieve. For instance they obtained an extraordinary perception of the stars and with their advanced mathematics could calculate not only rotations of the other planets around the sun, but also detected the "wobble" in the Earth's own rotation which had confused modern day scientists for generations. 
Time travellers to distant galaxies
The Mayan world was ruled by greatly adorned feathered kings and important priestly scribes holding the entire jungle civilization together. Wonderful stone monuments littered the landscapes of Guatemala and low land Mexico with each new discovery supposedly shielding more light on their unique esoteric wisdom. Yet, now that enough time has passed so that some of the strange hieroglyphs have been  interpreted it is being realized that these people were indeed time travellers into the distant galaxies without the use of any technological apparatus to assist them. One of their greatest accomplishments being the human visual and cognitive understanding of the universe.
Once every 26,000 years
Of the hundreds of scholars presuming to make a name for themselves is one rogue savant and spiritualist by the name of John Major Jenkins who has drawn deeply from historical documentation and his many years living experiences with the Maya. On that very special date of December 21, 2012 the equinox of our Earth's wobble comes directly into alignment with the centre of our galaxy, the Milky Way. An incident that occurs over some 26,000 years but happens on that day.
It's an astrological thing and over the course of the Earth's existence has occurred a few times but without historical reference it's just simpler to state it's and "end date" rather than the beginning of something altogether "new".
Now, this date and galactic alignment situation was known to the Vedic scholars of India, the Sumerians, Egyptians, the Greeks and a handful of others all alluding to something special happening more in the line of a spiritual awakening. Wonderful scholars and eminent minds have theorized concerning this date for years. "These writers pioneered the resurrection of the Primordial Tradition (Perennial philosophy) this school of thought reflects that the current cycle of history has run its course and is ending amid a proliferation of inverted spiritual values and rampant materialism" (Jenkins).
A simpler existence
In short, our soul is yearning for something more, easier, less complicated than our current life styles. We need a new beginning; a different emphasis. What better way than to close one chapter and start another.
Now, get out there and get that shopping done, and this time with special care and understanding. It is not just a package you're giving but a unique gift that is part of you.