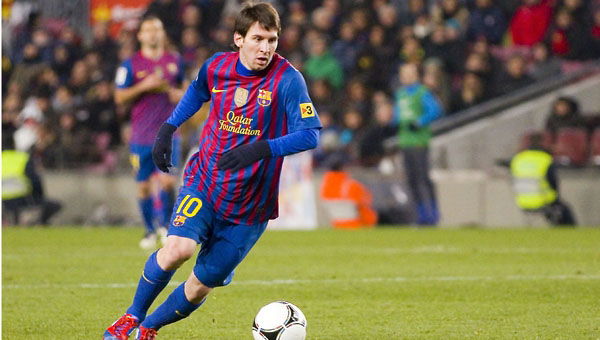 by Tony Matthews
BARCELONA and Argentina footballer supreme, Lionel Messi, is now in striking distance of breaking Gerd Muller's record for most goals scored in a calendar year at competitive level.
The little man needs to find the back of the net just four times in six games to beat the German striker's world record haul of 85 goals which was set 40 years ago in 1972.
Muller, who won the European Cup, four Bundesliga titles and the World Cup during his career with Bayern Munich and West Germany, played in just 60 games for club and country to achieve his record.
If Messi scores his 86th goal of 2012 in Barcelona's final La Liga game of the year versus Real Valladolid at the Nou Camp on December 22, his appearance tally will be 70. 
But as the 25 year-old Messi closes in on Muller's record it is fair to ask whose achievement is greater.
The number of appearances alone fail to prove that Muller's achievement was the more impressive, particularly because 12 of his goals came in an obscure and short-lived competition, the DFB-Ligapokal, the now defunct German League Cup.
With Munich staging the summer Olympics the start of the 1972-73 Bundesliga season was delayed until mid-September, so a League Cup competition was created to bridge the gap and ensure that all teams played matches to help generate income.
At first, Bayern Munich did not take the competition seriously, sending out an under-strength team in its opening away tie, Muller being an absentee. This enraged the home supporters, who had paid good money to watch Bayern's celebrated first-team players. A photographer even filed a fraud lawsuit against the Munich club.
Thereafter, Bayern fielded their first team and Muller went on to bag 12 goals in five games, including a four against struggling Second Division Regional League team, FC Hof. 
Strength of schedule is one factor in the difference between the respective appearance and scoring totals of Messi and Muller. But there is also the issue of the globalization of the top European Leagues. 
While Muller netted 13 goals at international level and 11 in various European club matches, 42 of his 85 strikes in 1972 came in 34 Bundesliga matches at a time when the top soccer talent was spread a lot more thinly across Europe and indeed, the world.
So far this year, Messi has scored 52 goals in 34 La Liga games and while being assisted by two brilliant midfielders in Andres Iniesta and Xavi Hernandez, he regularly faces the game's best defenders. This was not so when Muller was around.
Of Messi's other 28 goals so far this year, 12 have come with Argentina, including a hat-trick against Brazil in New Jersey, 11 in the Champions League, three in the Copa del Rey and two in the Spanish Super Cup.
However, I feel –having been involved in football for many years – that drawing comparisons between eras is never an exact science. Suffice to say, Messrs Messi and Muller have a great deal in common, that is their ability to score goals and do so often. 
Both have been the leading scorer in the European Cup/Champions League on four occasions and earlier this year (in March) Messi joined Muller as the 11th player to have netted five times in a single European Cup/Champions League match. 
That five goal haul, which Messi claimed in a 7-1 drubbing of Bayer Leverkusen, came in the middle of an 18 goal scoring run, spread over eight games, during which time he also netted four against Valencia and a hat trick versus Granada.
Despite his lack of bulk (he's only 5ft 7in tall and weighs barely 11stones) Messi riles defenders with his grace, darting pace and unrivaled close control of the ball, which at times seems to be glued to his feet. He's won more than 30 penalties during his Barcelona days and has picked himself up to score 28 of them.
In contrast, Muller was a squat and powerful five-foot-nine poacher who simply hung around the penalty area waiting to pick up the pieces, which he did to perfection.
The cleverness of Messi's play is matched by a lethal accuracy in front of the goal. Surprisingly he netted only once in his first 14 outings for Barcelona, but now he's shattering all sorts of scoring records.
In addition to his five Spanish championships, three Champions Leagues titles and numerous individual awards, Messi smashed Muller's record of 67 goals in a single European season by scoring 73 times in 2011-12. 
He's now by far Barcelona's champion marksman of all-time with 279 goals to his credit in 349 senior appearances, plus another 31 in 76 games for Argentina. His coach at the Nou Camp, Tito Vilanova, said: "His goal tally is spectacular. There's no doubt about that. It takes other great players seven or eight seasons to score the amount of goals he nets in one season."
But for all the records in football, there are more to be broken, and the next big one is up for grabs. So, with eight more games remaining in 2012, King Leo (as his fans call him) needs just eight goals to become the world's master marksman in a single calendar year.