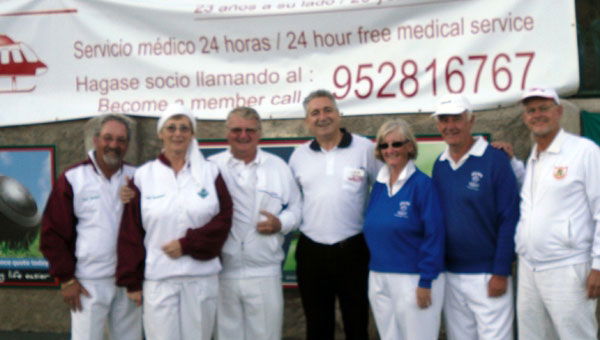 IT was a record breaking Miraflores Open Bowls tournament with more than 350 contestants. The bumper entry was a new record for the eight day event in Mijas Costa, with the weather holding off and finals day being blessed with blue skies and glorious sunshine. 
The quality of the matches was high with many games going to the wire, especially in the pairs where a large proportion of the matches went to extra end deciders while many of the singles matches went to 20-20.
In the Mixed Pairs final Brian Todd and Mary Detheridge took on Bill Gregory and Norma Ewen (all from Benalmadena BC). In an exciting three end tie-break for the title Bill and Norma withstood the pressure to win the last two ends and take the trophy. 
The Mixed Triples final was won by Tony Frowd, Theo and Nel Bellaart of Belplaya BC against Gordon & Margaret Kain (Santa Maria) and Mike Glithero (Mijas). The Ladies' singles final saw Barbara Land of Mijas BC beat Kate Morris of Benalmadena BC. 
In the Men's singles final Brian Todd of Benalmadena was against Jeff Pitt of Lauro Golf. The match was very evenly balanced with the lead changing hands several times. The scores were tied at 19-19 after 27 ends but Brian went on to win the last 2 ends and win the title for the third time in a row.