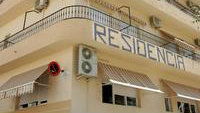 TWO care home workers have pleaded guilty to involuntary homicide charges following the deaths of two elderly patients.
The manager of the Nicolas Salmeron care home in Alhama de Almeria and a cleaning lady were accused of negligence after four patients drank hydrochloric acid that was stored in a plastic water bottle.
The pair were sentenced to six months in jail suspended in lieu of fines of €540 each.
The tragedy occurred five years ago when the acid was mixed with water in a bottle, which was 'forgotten' about in a toilet after an emergency call.
Six days later, another staff member picked up the bottle and used it to quench the thirst of four patients.
The four immediately became ill and a day later a 75-year-old woman died. The second victim, a 91-year-old man, passed away a month after the incident.
The insurance company will have to pay the victims' relatives a total of €143,000 compensation.