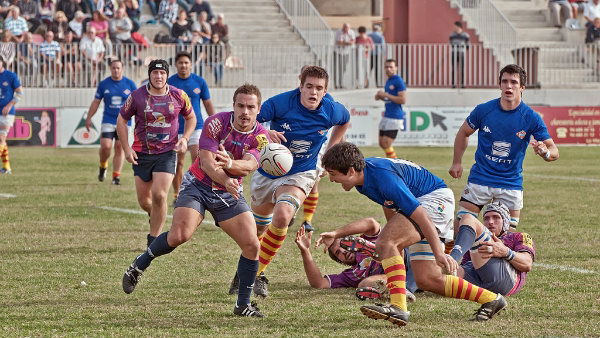 La Vila RC 8-36 UE Santboiana
---
SANTBOIANA scored a try after just two minutes through Tauli as they took early control of the match.
Sorribes responded with three points through a penalty, but it was the day of the opposing full back, Canning, who controlled the game, putting pressure on a Vila side that showed a lack of ideas in both defence and attack.
Villalba was brought on for the home team after an injury to centre Lucas Poggi, but a second try for Santboiana came through back row Ruben Sanz, and they closed the half with a try before the break from Baker in the centre.
The script in the second half continued very much in the same vein as the first, as two tries, first from Baro, then by Josep Puigbert guaranteed the away team an offensive bonus point.
The introduction of Martinez, Davies, Jimenez and Aristemuno provided some stability in the vileras ranks, but the damage had already been done. Juan Aristemuno managed to score the only try for La Vila in a counter-attacking move, but
Santaboiana finished the scoring with a penalty in the last minute.
It was an emotional meeting for the La Vila players who faced their former teammates Lyons and Phipps, two players now settled into the Catalan team. Next weekend the team from Marina Baixa travel to the Basque Country to face Hernani CRE, as the team attempt to regain their confidence and winning mentality.
Next La Vila home game will be December 9 against the Madrid Swans, with several anti-crisis promotions on offer the club hope there will be a big crowd to help encourage the team to return to winning ways.
LINE OUT: Davies takes the catch for La Vila