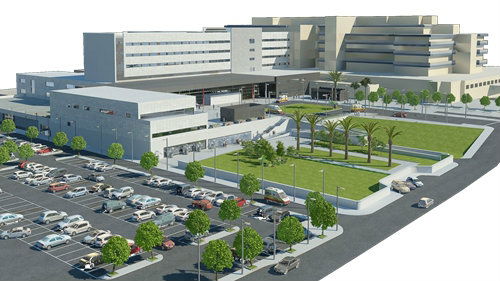 AN urgent meeting is being called for to get work on a huge extension to the Costa del Sol Hospital finally finished.
Due to be completed in June 2011 work has ground to a halt at the Marbella hospital. Malaga Health delegate Daniel Perez has said the project had gone on hold because the town hall refused to build a private car park at the hospital.
Now Marbella´s mayor, Angeles Muñoz, has sent a letter to Andalucian Health Councillor Maria Jesus Montero asking for a meeting to sort out the problem.
"They cannot say the only option available is that users pay for private parking," Muñoz said.
The mayor pointed out that the council had bent over backwards to change the PGOU municipal construction plans to make room in the hospital for a private car park, a kindergarten and a 3,000 square metres business area, "despite it not being our first choice for financing the hospital works."
"We will consider all the solutions at hand. This is an absolutely essential project."
Currently the hospital serves a population of 500,000 with numbers tripling in the summer.