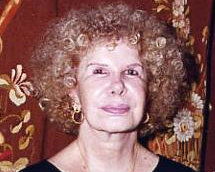 THE DUCHESS OF ALBA has been named 2012's best-shod woman in Spain.
To mark the occasion, Elda town hall and the Footwear Museum presented Cayetana Fitz-James Stuart y Silva with their yearly award, a stiletto-heeled shoe with wings.
Politician Esperanza Aguirre, Carmen Cervera – owner of the Von Thyssen art collection – and the actress Paz Vega are winners from previous years.
The Duchess is a point of reference for fashion, good taste and an original dress sense, decided the panel of judges. Her insistence on wearing Spanish shoes was another deciding factor, said jury member Antonio Porteta.
Elda is the nerve centre of Spain's shoe industry, and many of her shoes are made there, the Duchess said. "Spanish shoes are the most attractive, the most comfortable and the most original," she told the town hall representatives and local manufacturers gathered for the presentation.
She would keep the award in her bedroom, said the 86-year-old Duchess who was accompanied by her third husband, Alfonso Diez Carabantes. "My wife has loads of shoes," he said, "and she wears them all."
But she now has one pair less after donating the pink pumps she wore at her wedding last year to Elda's Museo del Calzado.