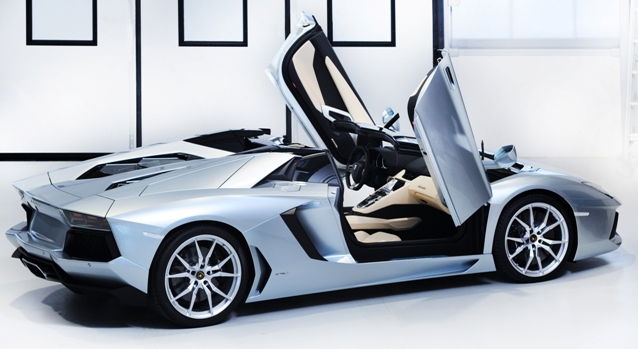 LAMBORGHINI has unveiled the new Aventador LP700-4 Roadster. It is the latest open-top luxury sports car built by the Italian company. 
On the heels of the coupe introduced in summer 2011, and with more than 1,300 already delivered to customers, the House of the Raging Bull is now offering the convertible version of the Aventador.
It accelerates from 0 to 100 km/h in three seconds and has a maximum speed of 350 km/h. It has a 6.5 litre V12 aspirated engine generating 700 hp, an ISR 7-speed gearbox and push-rod suspension.
The new Lamborghini can immediately be recognized by the unique profile of its upper area, which extends along newly designed geometric lines from the removable roof to the engine hood.
The two-piece roof is made entirely from carbon fibre using techniques that guarantee maximum aesthetic performance and stiffness – the company says – although each component is extremely light, weighing less than 6 kg. These two parts are removable, easy to handle and can be stored in the front luggage compartment. In a few seconds the it becomes an open top car.
The rear pillar has been redesigned to offer total support for the removable roof, accommodate an automatic protection system for passengers, and provide the engine compartment with ample ventilation.