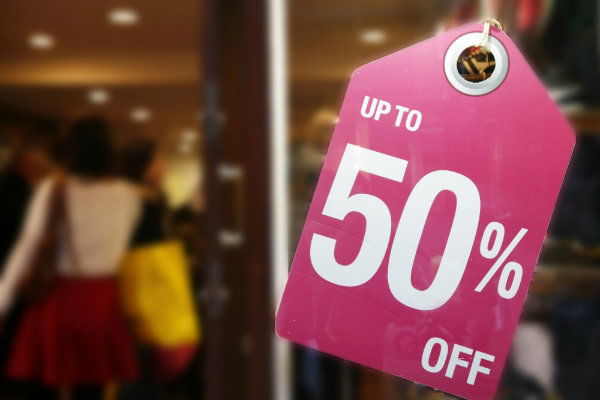 LIKE many a free thinking, free spirited woman I love a good bargain.
The words 50 per cent off send shivers up my spine, and a red sticker stuck on a price tag can send me spinning in infantile delight. Like a cat following a pin prick of light I will pursue a red tag with the fervour of a witch finder dropped on the hillside of Pendle during the 1600s.
I am an intelligent woman who fully understands the futility and damage of a consumerist attitude to life but I find it virtually impossible not to feel an almost forbidden delight when passing through the glass fronted entrance to a shopping centre.
As a young girl my idea of a good day out involved visiting my Nan and accompanying her to East Ham market for her weekly shop. I would stare open mouthed at all the bright bits of plastic hanging from the hardware stall and choke with excitement when she stopped beside the toy stall and purchased a small doll or book for me. I loved the feel of a brand new object nestling inside a crisp brown bag no matter its value, as long as it was new and shiny.
I also have a thing for gadgets (not like that!) and have been known to groan with pleasure when unwrapping a new mobile phone or computer. A friend recently purchased a new Kindle Fire and I must say I drooled when he lifted the shiny black box to reveal a perfect shiny black tablet nestled in white card like treasure salvaged from the ocean. In terms of gadgets I live vicariously due to lack of funds, which is just as well as my house would be full of electronic gear that would be out of date before I'd even signed the delivery form.
So this Saturday was spent wandering, with a good friend who shares my delight in bargains and shopping centres, through the covered halls of Plaza Mar in Alicante. We flittered like magpies through gift shops and clothing stores trying on boots and cooing over crockery. 
My friend has a high powered job in IT and I am about to become a fully fledged Art Teacher but still we leave our brains behind at the entrance and skip (yes there was indeed some skipping) like girls through the hallowed halls. I bought some Christmas gifts (bargains) and she bought light fittings. Sated and happy we returned to our respective homes to gloat and preen over our purchases. Not only that but we discovered a 1 euro sandwich shop, gravy on the cake as they say.
The joy of sharing this with a like- minded person was immense as I have often had to hide this shameful secret beneath a veneer of cynicism. On visiting art galleries or museums I fidget and twitch with impatience until I can stumble excitedly into the gift shop and in intellectual safety purchase shiny art books or various useless knick knacks that gather dust on my shelves.
At least it's cheaper than a psychiatrist. Or as Tommy Cooper once said: "I went window shopping today. I bought four windows."