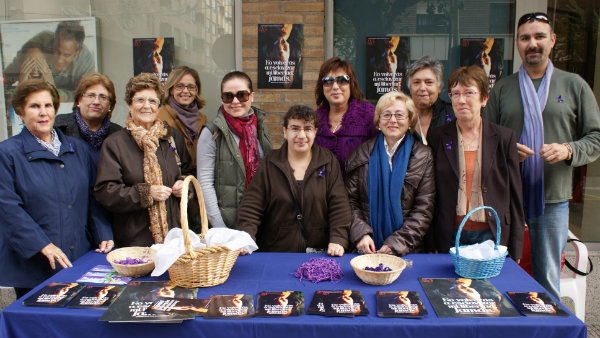 THIS Sunday is November 25, the International Day for the Elimination of Violence against Women. In most Spanish towns and cities, conferences and workshops will be held by experts. 
Everyone, including expatriates, should be more conscious and get involved in actions to get rid of one of the most serious and shameful problems rooted in Spain's society.
So far this year, 55 women have been murdered in Spain due to gender violence, 45 out of them by her couple or ex-couple. In the first half of 2012, a total of 62,967 cases of gender violence were reported to the authorities, figures by the
Home Office said. According to them, 36 per cent of the cases were reported by foreign women, although later on 40 per cent of them refused to keep ahead with the legal proceedings against their attackers.
It is very difficult to estimate the magnitude of the problem as less than 10 per cent of physical domestic aggressions are reported. The number of reported cases is even lower if we consider psychological abuse.
But why is domestic violence so common in Spain?
Obviously, this is a very hard question to answer and deserves thousands of pages by real experts – not my humble opinion – to assess the causes. Experts identified alcohol and drug addiction as well as economical and social causes. But this is mostly believed in areas like the Scandinavian countries * who also present high domestic violence rates.
In my opinion, Spaniards believe the problem goes as further as to the culture of the dominant, misogynistic male (the 'macho' or 'machismo'). Having its source in the Franco era and the extreme Catholic repression that generations have suffered, a role for each gender was established in the minds of many men and women. The man works to provide and the woman deals with home and children matters. While this was respected by both sides, somehow it worked. Then freedom came with women rights, the modern labour life, the pill, divorce laws, the right to abortion, etc. We are still in the middle of a progressive change of values.
We may think violence is only attributed to a certain profile: men on their fifties or older, poor education, tired of being married, low to middle class, for whom Democracy came too late. But the truth to me is, deep down in the Spanish society there is still so much of it.
Of course, lots of improvements have been made in Education and the new generations have grown believing in the values of gender equality. Sadly, statistics also reveal that around 30 per cent domestic violence cases were committed by people under 30.
There is, consequently, so much left to do. We should all make our bit to build a better society. Campaigns organised by the different Councils for Equality (Delegacion de Igualdad) in every municipality have proved very successful to show the public eye a formerly private problem. There is a helping organ or association almost in every Spanish town. Help is guaranteed, so if you know any victim or think you should learn more about how to act in these cases, check your town hall's agenda for November 25.
*##i##Domestic Violence against Women Report##i##, European Commission. September 2010.