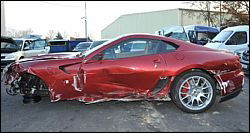 CRISTIANO RONALDO'S smashed-up Ferrari is now up for sale on eBay.
The Real Madrid football player reportedly crashed the sports car into a wall in the UK in January 2009 during his time with Manchester United. He was on his way to Carrington football ground for a training session at the time when he veered off the motorway. Although the front part is badly damaged, the Portuguese footballer escaped unharmed.
Its starting bid on the internet auction site is €50,000. Its seller is a specialist in top-of-the-range car parts based in Duppigheim, eastern France. It says it is completely repairable and would be roadworthy again once the necessary work was carried out. It has 3,099km on the clock.
Photos on eBay show the car from several angles as well as of the vehicle registration document bearing Cristiano Ronaldo's name.