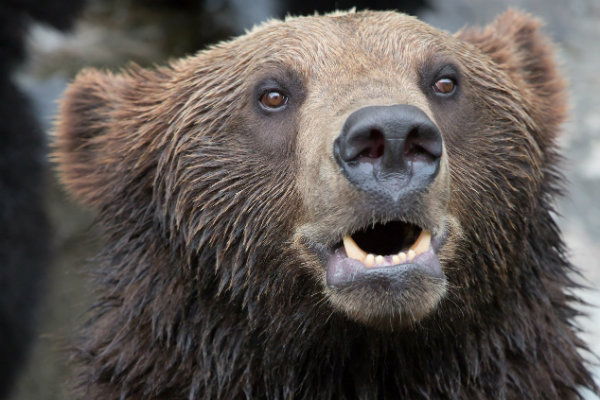 IF you were an animal, what would you be? Quick and predatory like a leopard? Loyal and reliable like a dog? Or, like me, would you be a bear?
Not a cuddly one of the teddy variety, but a fully-fledged grizzly is more like it. Partly because I love raw fish (sashimi, smoked or 'gravad'), I can eat a month's worth of food in one sitting and, if irritated, I have a tendency to roar. But mainly it's because I go into hibernation this time of year.
"Mum – get out of bed!" The kids call bright and early on a Sunday morning. "I can't," I groan. 'Why?' they demand to know. "Back problems…" I mumble, trying to sleep mid-dialogue. "…can't get it off the mattress," I add in an attempt to close the discussion.
Normally the kids win this tug-of-war, but left to my own devices, I would probably spend most of the day tucked away under the warm duvet, as the cold winds howl outside and the darkness falls earlier and earlier each evening. Is it just me or does the lure of a good movie, some mulled wine or hot chocolate in front of an open fire not appeal more than facing the elements 'out there'?
Hibernation in bears is more technically referred to as denning or winter lethargy, which perfectly sums up my lack of energy and impetus come winter-time, symptoms which in humans are referred to as Seasonally Affective Disorder (SAD). Unlike the grizzly, the show must go on for us, so what can we bears do to survive this winter of our discontent?
Experts recommend that we expose ourselves to as much natural sunlight as possible, especially during the hours of 6am and 8am. Pretty tough, since it's pitch black for most of this time. For investigative purposes I set my alarm at 6am to verify this before nodding off again. So, if this is not possible, it may be worth investing in a dawn simulator or a box of light, which emits a light ten times stronger than your average household lightbulb.
What you eat also has a bearing on our hibernation instinct. Foods that contain the amino acid tryptophan can help to increase levels of serotonin in the body, which can make you feel better. Foods rich in tryptophan are turkey, milk and egg whites. The experts also tell us to avoid alcohol and caffeine, but they always do, don't they? Personally, I think a glass of Rioja Reserva cures many ills and life without my daily coffee is, frankly, inconceivable.
Other than that, we are meant to exercise and keep a regular schedule (not sleeping in late on Sunday mornings, my kids will be delighted to hear). Of course, if the bear tendencies cannot be tamed with these home remedies, you might want to pop into your friendly doctor's or speak to a counsellor. SAD is a recognised medical ailment and may need professional treatment if severe.
If all this fails, then your only remaining option is to move to an even sunnier climate than we have here in Spain. The ideal is within 30 degrees of the equator, so get your map and protractor out and consider your options. I will have a look in the Atlas soon but perhaps a few more minutes in bed are needed first. Just one more press of the snooze button…