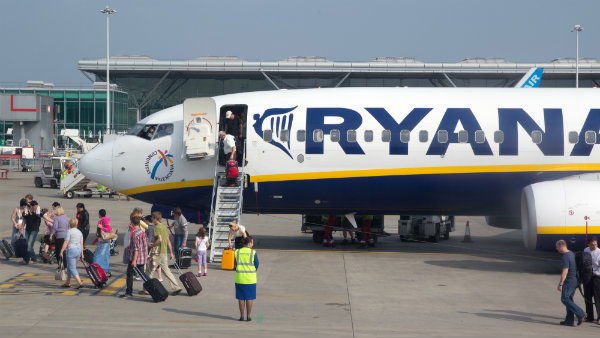 RYANAIR'S Michael O'Leary has hit the headlines yet again with claims he's being blocked in attempts to operate flights where passengers stand during the journey at a cost of just £1 per ticket. He's calling for standing room only cabins with the removal of the back ten rows of seats.
Arguing that seat belts would be useless anyway in a crash and should therefore be scrapped, he points out that they're not required on the London Underground or on trains traveling at 120 mph. Why then on planes? Fuming at the authorities for denying him permission, he says: "The problem with aviation is that for 50 years it's been populated by people who think it's a wondrous sexual experience … when it's really just a bus with wings."
What can't be denied is that O'Leary's a brilliant manipulator of the media. Rather than pay a fortune for advertising, he plants another silly story in the press and all the media pick it up (oops, guilty myself here!), giving him hours of free publicity.
What next? Outside toilets? Strapping passengers to the wing? Getting passengers to stick their arms out of the windows and flapping to reduce costs? Parachuting passengers out of the plane when it's directly over the airport they'd prefer to land at rather than the one Ryanair's taking them to?
Or are slot-machines the solution? Coin-operated slot-machines giving passengers access to oxygen masks, life-belts, emergency exits and chutes. Could this be O'Leary's true vision of the future?
No wonder O'Leary's loaded, he gets all this coverage free. He's the one who should be charged a quid every time an article's printed about him! But love him or loathe him, he's created numerous jobs, a fact which is, indisputably, good for the ailing economy. Additionally, many European cities would be in dire straits if not for the tourists being bussed in by his planes.
And as O'Leary himself would say: if you don't like 'em, don't use 'em.
Basically, you can't help but admire the resoucefulness of everyone's favourite love-to-hate Chief Executive whose strategy seems exclusively based on a weird sort of 'anti-marketing'. Any publicity's good publicity in Michael O'Leary's opinion but sooner or later it'll backfire. But hopefully not in mid-air …
Nora Johnson's thrillers 'Soul Stealer' & 'The De Clerambault Code' (www.nora-johnson.com) available from Amazon in paperback/ eBook (€0.89; £0.77) and iBookstore. Profits to Cudeca