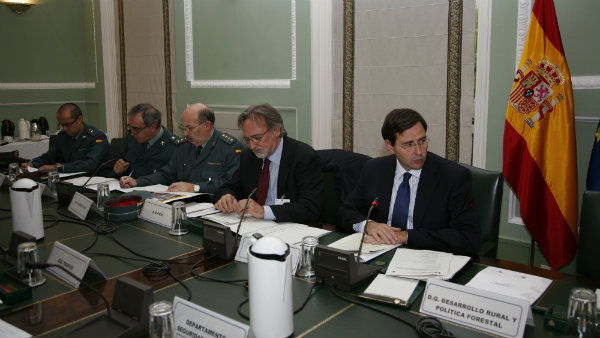 NEW measures for emergency action after massive fires may be adopted next year by the Spanish Government. A call will be made to all regional governments by the Forest Fires Coordination Board, which depends upon the Home Ministry, for new regulations.
This decision was adopted after assessing 2012's results, which yielded a total of 14,684 fires and minor outbreaks leading to 198,447 hectares of burnt surface, until the end of last October. Compared to previous years' numbers, there were fewer fires (16,267 in 2011) but they were more destructive, since they surpassed last decade's burnt surface average of 105,390 hectares. It should be noted that 25 per cent of the scorched surface this year belonged to last summer's two large fires in Comunidad Valenciana.
As a consequence of fires, 10 people died and nearly 300,000 were evacuated from 87 blazes this year.
Figures by the Home Ministry and the different safety authorities also found that there more fires outside high risk periods, since last winter and spring were remarkably dry and warm in regards to previous years. October was, however, very quiet thanks to the constant rainfalls nationwide.
The Board qualified both preventive and first actions after an outbreak as efficient. However, the weather conditions and the state of vegetation made it very difficult to control oversized fires.
Emergency aid was given by the State Government in 542 out of the 718 fires reported to Civil Protection's national emergency board. The most intensive days were August 10 to 12, "when basically all state fire fight resources were used simultaneously in 19 different fires," Home Office deputy minister Luis Aguilera said.