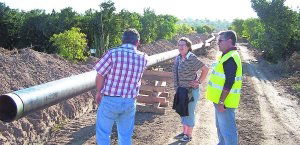 WORK on the Marina Alta gas pipeline has unearthed Roman remains in Gata.
The discovery was not unexpected and its probable existence was cited in the council's objections to route planned by the construction company, said mayor Ana Maria Soler. Workmen uncovered the remains some days ago as they began to cut trenches for the pipeline near Gata's La Rana archaeological site. 
They came up against a 50-centimetre section of wall which Javea's town architect Ximo Bolufer believes was built between the 2nd and 3rd Centuries AC. The wall was probably a workshop where pottery jars were made for exporting wine produced in the area between Javea, Denia, Gata and Jesus Pobre, he said after visiting the site.
The construction company, whose own archaeologist supervises excavations, has not halted work,  as digging uncovered only an exterior wall side of the building.  In the meantime, the regional department of Heritage Assets has been informed of the find, the mayor disclosed.