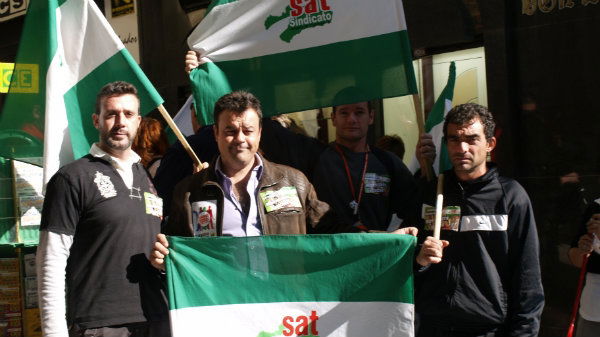 SPAIN will today (Thursday) get back to normal while counting the cost of yesterday's General Strike. Workers, the unemployed, teachers and students took to the streets to protest at austerity plans in the face of the present economic crisis.
Yesterday´s strike came just eight months after the last Spanish General Strike on March 29. The action in Spain coincided with a European-wide strike action in countries including Portugal, Malta, Cyrus, and Greece, and was called by unions to mark the 'European Day of Action and Solidarity'.
Many rallies ended with violent clashes with police as millions took to the streets to express their frustration over rising unemployment and dire economic prospects. Spain – which has the highest unemployment rate in the industrialized world (26%) – pioneered the action with protests and clashes that started Tuesday night and ended in 142 arrests and at least 74 injured, including 43 policemen during the day. 
Spain´s Union Comisiones Obreras (CCOO) said there was "no other option" to the strike call, while the Union General de Trabajadores (UGT) stressed that people should not be "afraid to lose a day´s pay" because the issues at stake nationally were more important.
The Costa del Sol found itself amid keen support for the national strike call. Whilst many businesses stayed open some workers keen to report for duty found themselves faced with skeleton commuter services. Many bus services were cut and trains between Malaga and Fuengirola were running once an hour, one third of the normal service. 
But air travellers faired better with few local flights cancelled, though national figures given out at midday yesterday reported 700 flights grounded. Whilst schools remained open many children were left with reduced lessons when teachers joined the strike, and some school transport was cancelled when supervisors failed to report for work. 
But for many life carried on as normal. Most shops and supermarkets remained open on the Costa del Sol and while in Marbella some strikers carrying placards tried to make shops shut, National Police stepped in to move the protestors on.
Two hundred people gathered in the city´s Plaza de los Naranjos before moving on to La Cañada shopping centre to carry on their protest, and to picket in the car park.
In some places the two main unions were joined by smaller sector alliances, as well as by student and resident groups. In Fuengirola the CCOO organised a small demonstration in front of the Town Hall.
Striker José Miguel Lopez, aged 27, said: ¨The people are suffering because of the actions of the rich. That is why I am on strike. Why should we pay for other people´s greed? ¨It is very difficult for the young people today. I am lucky I have a job. Many do not have the chance.¨ Joining him in the protest his father, Miguel, Lopez, 60, said: ¨What can people do when they find themselves in such a bad situation? We have to pull together and protest against the cuts. Only if we work together can we move on.¨
Meanwhile, in Portugal, anti-austerity rallies were held in 40 towns and cities throughout the country. Lisbon froze as people filled the streets. The subway was shut down, railway strikes left commuters stranded and half of their flights were cancelled. In the evening protesters reportedly threw stones and rubbish in response to police trying to clear Lisbon's streets. There were at least five injuries reported.
Italy was gripped by striks and violent protests as tens of thousands of protesters took to the streets ralling against austerity measures. The streets ground to a standstill as rioting workers and students confronted police, throwing rocks, bottles and firecrackers at them. More than 50 people were arrested and at least 17 police officers injured.
Greeks gathered in a quite 5000-strong protest in Athens and called for a three-hour work stoppage in solidarity with the Spaniards, Italians and Portuguese. There were minor clashes with police, but overall the demonstration was mainly peaceful, in contrast to their vigorous 48-hour anti-austerity strike last week.
In France there were 130 rallies against austerity measures.
Meanwhile, in Brussels, eggs and firecrackers were thrown at Portugal's embassy as crowds of people demonstrated at the EU headquarters. While demonstrations were mostly peaceful, unions were able to disrupt transport links as railworders stopped high-speed train services countrywide.