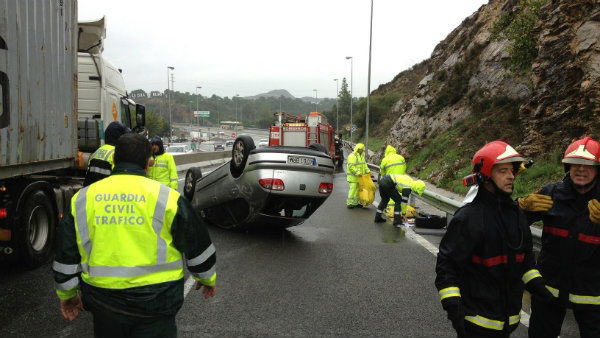 A DISASTER is waiting to happen on the notorious La Cala curve, say local residents after a lorry crossed the central barrier and narrowly missed a packed bus.
¨What are they waiting for?¨said Francisco Sepulveda, president of the La Cala Neighbours Association which has been demanding action on the dangerous bend on the A7 in Mijas Costa since 2009. ¨For a lorry to crash into a Portillo bus? For 50 people to die?¨ he added.
In the last fatal crash, on September 12, a lorry crossed the central barrier colliding with a van and car. The lorry driver was killed and the drivers of the other vehicles injured. But it could have been much worse as just metres away was the Fuengirola – Marbella bus filled with passengers.
Now the residents association, backed by Mijas council, has again written to the government and roads authority demanding a definitive solution to the problem.
These measures, according to Sepulveda, could include improved banking and compulsory purchase of land so the bend can be straightened. ¨The problem is that this curve is poorly laid out. The radius of the curve is such that it makes lorries lose their balance,¨ he added.
And that makes the bend one of the most dangerous points for articulated lorries in Spain, according to Mijas Town Hall. So far this year there have been 13 serious incidents, one death and numerous injuries at the blackspot between km 199 and km 201 on the A7.
Mayor of Mijas Angel Nozal has called for action similar to the roadworks that improved the once even more dangerous El Faro curve. In the short term he would like to see speed cameras installed to try and slow down traffic.