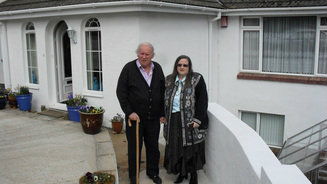 WE all have our reasons for moving to Spain but for one couple, that reason is a little more serious – they simply cannot afford to live in the UK any more after years of injustice has cost them hundreds of thousands of pounds in legal fees.
Robin and Lynda Watkins from Dorset were in a car crash in September 1999. A white van hurtled in to the back of them whilst they were stationary in a queue of traffic.
The crash was so severe it wrote off their large saloon car, causing them both injury resulting in fibromyalgia – a long-term condition which causes pain all over the body. Their insurance claim for damages was handled by the Motor Insurers Bureau (MIB) the UK body which provides compensation for victims of accidents caused by uninsured and untraced drivers.
"It was set up to protect innocent victims like us," says Lynda Watkins, "but it has done nothing but cause us more harm."
After years of various solicitor's letters going back and forth to the MIB, in August 2001 they were told they would have to go and see two MIB expert medical witnesses. As no progress was being made, in 2004, and because of the bias of the MIB's previous doctors reports they instructed their own medical reports which were also sent to the MIB that year.
In August 2005 Lynda was so frustrated by the experience to date she sent an email direct to the MIB outlining the lack of progress and a David Shutes phoned, "He did seem to get things moving but then disappeared. We had to go and see a Dr Andrei Calin for more appointments and assessments."
When they received a copy of Dr Calin's report the couple were horrified at the catalogue of errors within it stating the Lynda had lost a baby at 10 months and she had been mentally and physically abused by her mother and husband.
"This could have ripped my marriage apart, I could not have children and the abuse claims were ridiculous." The doctor dismissed the report saying his secretary had 'spliced two dictaphone tapes together' hence the error.
So shocked at the lack of accuracy Robin and Lynda reported Dr Calin to the General Medical Council (GMC). Dr Calin was being investigated by the GMC at the same time that their case went to arbitration
"We told our solicitor that surely the arbitration should have been held off until the GMC decision had been reached. The Arbitration went ahead and the MIB arbitrator ironically preferred the MIB's expert medical witness whose fee was paid by the same organisation that paid his, namely the Motor Insurers Bureau. "It all seems to be a big cover up."  
In 2010 they were offered £5,000 to cover legal fees but fees with their solicitor had already exceeded £100,000.  The couple lost their business as a result of their illness and had to down size their home in the UK to cover rising debt and legal fees costing them in excess of £500,000.
"This should have been the best time of our lives, mortgage free, enjoying our years of hard work but we have been fighting for 13 years."
The pair bought an apartment in Torrevieja as a holiday home but are now relocating permanently for cheaper living and upon their doctor's recommendation after he said the warmer climate would ease symptoms for their fibromyalgia.
In the meantime their fight continues. Anyone with similar experiences can contact Robin and Lynda by emailing [email protected]