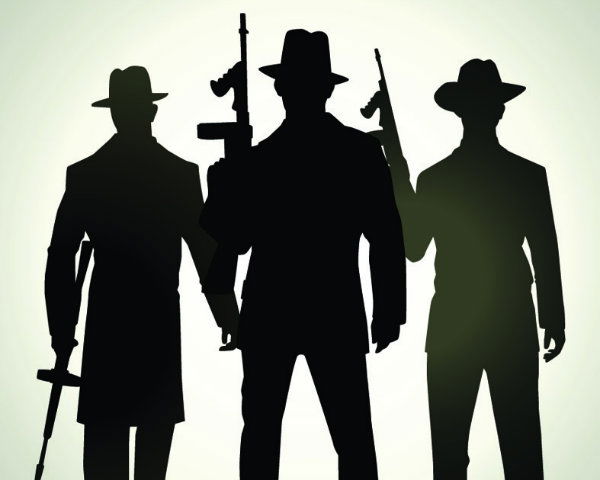 AT the risk of finding a severed horse's head in my bed, I thought I should address the perilous subject of organised crime. Being an optimist (naive, if you prefer) I actually thought that the realms of the Mafia in the developed world – apart from Russia – had pretty much faded into obscurity with the likes of Al Capone and John Gotti. 
But as recent events show, it has once again raised its ugly head: The Mafia is alive and very well, indeed. Well, were it not for some 80 of their Chinese contingent being arrested in Madrid and Barcelona in October and, not forgetting, the recent resignation of Japanese Justice Minister, Keishu Tanaka, amid revelations that he was buddies with some top honchos in the Yakuza.
These incidents are, of course, the mere tip of the cement-booted iceberg; the UN Office on Drugs and Crime estimates that organised crime accounts for $870 billion (682 billion euros) in the many sordid and heinous activities they engage in.
With such power, the real question is; why are they not more visible? At a time, when politicians and the police seem unable or unwilling to act against everyday crime like robberies, assaults and general hooliganism, isn't this the exact time that the mafia could gain both political power and public favour?
These major league criminals do not wish their hunting ground to be disturbed by the seething masses of low-life crime; these people have 'respectable' fronts, and you may even find that your kids share the same school… Presumably, they, too, want to keep 'their' streets safe, regardless of the drugs shipment they just ordered.
After a spate of robberies in her street, one friend asked the police what they were doing about it; any extra patrolling, intensified search for the perpetrators or anything at all, really… The answer was no. So she got together with some neighbours to see if they could hire a private security company to patrol the area. This turned out to be impossible or prohibitively expensive (even when divided by some 100 property owners). This friend lives here in Spain, but the same problem is echoed in most European countries.
I am in no way condoning the mafia, but it strikes me that it may be in their interest to control the lawlessness of today, in the same way that the Yakuza in Japan has kept petty crime at bay in the past. As a civilian, you could walk the streets of the capital quite safely, (assuming you were not caught in any rival Yakuza gang cross-fire) returning to find your home intact. Simple human rights we should be able to take for granted.
Of course, the preferred method of regaining control would be to follow the lead of former New York mayor, Rudy Guiliani, who succeeded in turning the city from one of the most treacherous in the States to one of the safest in the 90s. He achieved this with hard hitting policies like zero tolerance, even for minor offenses; this comes at a price, but I think we could all live without new government buildings or road extensions in favour of some basic safety and security.
Do you feel safe? Let me know your thoughts (anonymously if you wish) on [email protected] and I will follow up with a summary of responses in the next few weeks.