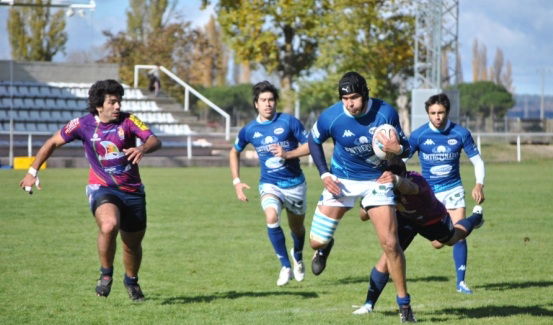 VRAC Cheese Entrepreneurs ended La Vilas´s four match winning streak on Sunday when they showed why they are the current league and supercup champions in a 44-7win.
Alicante´s La Vila were overrun by the lethal attacking play of the home side. It was a fluid game reminiscent of the style the `Joneses` employed in previous seasons, with authority in all areas and high speed action through the back line.
The cheese makers opened the scoring after just nine minutes with Javi Ortega's try, followed by a penalty which was converted by Griffiths.
La Vila fought hard on their 22 to make the home side work for their points. However breaks in the defensive wall were inevitable and resulted in tries for Fernandez and Molina.
For La Vila, the skilful Sorribes tried to build up play for the away team using the three quarters combination. Likewise Chivers encouraged the forwards at the ruck.
However, VRAC defended very well, and managed to add two more tries before the break through Muller and Merino, ending the first half 30-0.
A comeback from the visitors was expected in the second half, but the powerful home defence, led by Gorosito, only faltered once. The representatives from Marina Baixa fought tooth and nail to the last breath, managing to get a try in the last minute through Gardonio. Pedro Martin scored two out of the seven VRAC tries, giving the home side an offensive bonus point to add to their tally.
La Vila will have three opportunities to avenge the defeat, as this was the first of four meetings between the two sides this season. It will be interesting to see the evolution of the two sides in the three games that take place between February and April next year, the reverse league encounter and two matches in the semi-final round of the Copa Del Rey.