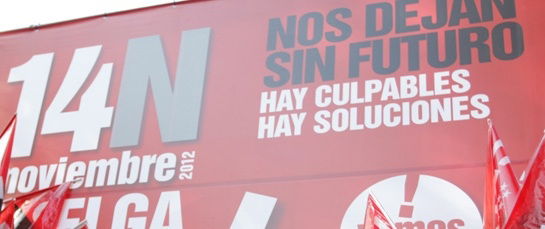 JUST hours into today's General Strike, 32 people have been arrested and another 15 injured in 'disturbances' according to the Spanish Interior Ministry. Three of them are members of the state security force.
Transport was expected to be disrupted, schools and public services closed and rallies held across Europe as part of protests over spending cuts, tax hikes and worker's rights.
In most major cities public transport is being covered at about a third of normal service between 6.30am and 9.30am and 4.30pm and 8.30pm.
Many shops and café's have opened their doors to the public as usual, although report that they have fewer customers than usual.
The General Workers Union said the nationwide stoppage was being heeded by nearly 100 per cent of workers in the automobile, energy, shipbuilding and construction industries In contrast ministry official Cristina Diaz played down participation saying it was hardly noticeable in goods haulage and major city wholesale food markets.
Electricity consumption in Madrid at 8am today is 15.5 per cent less than what registered the same time last Wednesday, according to Spain's electricity network REE.
This is the second General Strike in eight months against Spain's Prime Minister Mariano Rajoy's government.
Demonstrations began shortly midnight last night in Spain, Belgium and Portugal with similar protests expected to take place later in Italy, Malta, Cyprus and Greece.
In Barcelona, dozens of workers burned tyres and formed picket lines around the entrance of Barcelona's wholesale market, preventing deliveries. In Madrid, union leaders rallied citizens to drum up support.
They are protesting "the policies of a suicidal and anti-social government," said Ignacio Fernandez Toxo, CCOO union leader. He accused the government of causing "unemployment, misery and poorness."
In the area around Atocha station in Madrid a group of around 100 cyclists cut traffic at 9am and police can be seen everywhere. 
Meanwhile, Brussels also prepared for disruption to public transport. The Thalys train company announced all trains to and from Germany were cancelled yesterday evening. At Lisbon airport, flights planned for today were listed as cancelled.