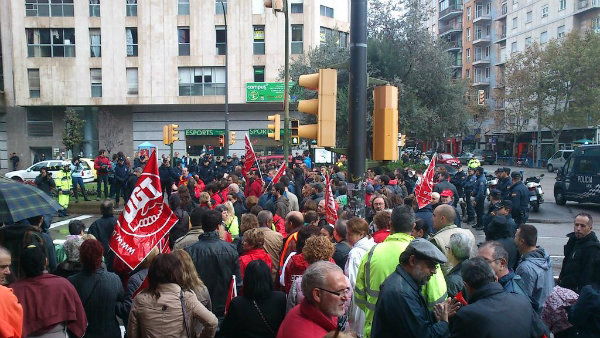 TORRENTIAL rains and heavy winds coupled with a general strike brought chaos to many parts of the island. 
In Palma city centre, many traffic lights failed and there was localised flooding, while more than 1,000 homes in the Poligono de Levante were left without electricity for 90 minutes. Across the island, the emergency services had to deal with dozens of call outs.
Meanwhile, early morning commuters trying to board buses and trains had to contend with pickets. At rush hour, picketers roamed central Palma trying to prevent businesses from opening. Shortly before lunchtime, no retailers were open in Carrer Sindicat, the busy shopping street. By and large, the pickets stayed away from flooded areas.
Protestors trying to reach the Plaça de Espanya transport hub faced off with police at the intersections with the Avingudes. Further down the road, about 20 police officers guarded the El Corte Inglés department store from protestors chanting anti-capitalist slogans. By lunchtime, there had been two arrests in Palma following police charges.
Trades unions claimed that municipal and transport workers had seconded the strike 'massively', and that 71 per cent of all workers had stayed at home.
Among the representatives of the island's small and medium firms, there was some division. Bernat Coll, of the Pimeco lobby, said that he was not opening the doors of his business for the first time in 35 years. He added that he was "anguished by the current situation and the future that awaits us", and described the strike as a "legitimate action against policies that are destroying us all".
Manela Campos of the women's section of the Pinem lobby, said that while "people supported the strike, they can't shut down their businesses for financial reasons". Rafel Rubio, of the hairdressers, said that they couldn't afford to lose a day's business.
In Calvià, which is home to more than 6,000 British residents, five in six council workers had reported for duty. Local police recorded no public order offences. In towns across the municipality, such as Santa Ponsa and Potals Nous, there was an air of normality, though some shops and bars did close.