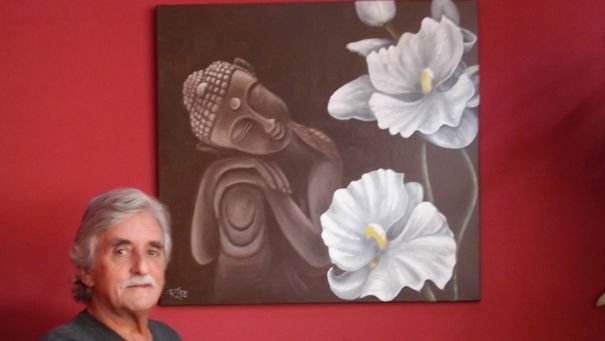 DUTCH painter Rudy Zee has donated an original painting to the Paul Cunningham Nurses (PCN).
His generous offer came after reading in Euro Weekly News about how another of his paintings was up for auction to raise funds for the charity. His picture of an abandoned car in the Australian Desert has been donated by Pauline Costello and was a favourite of her husband Niall. She bought it for him after he became ill and now Pauline feels it is time to give something back to PCN as they cared for Niall during his final weeks.
After hearing what Pauline had done with his painting Rudy has now decided to donate another, this time a serene Buddha and flower image. The talented artist who has had a passion for art all his life but only really began painting properly since retiring to Spain in 2008, hopes his image will raise hundreds for the charity that helped Pauline and Niall.
It took him two days to paint this summer and was his first Buddha image in a vast collection that sees Rudy inspired by the outdoors, people, places and his imagination.
The painting can be viewed in its current home at Ma Rigby's in Cabo Roig and anyone interested in placing a bid can email [email protected] with your name, phone number and NIE number or passport number. The email auction closes on Sunday November 30 for both the Buddha and Australian Desert painting.