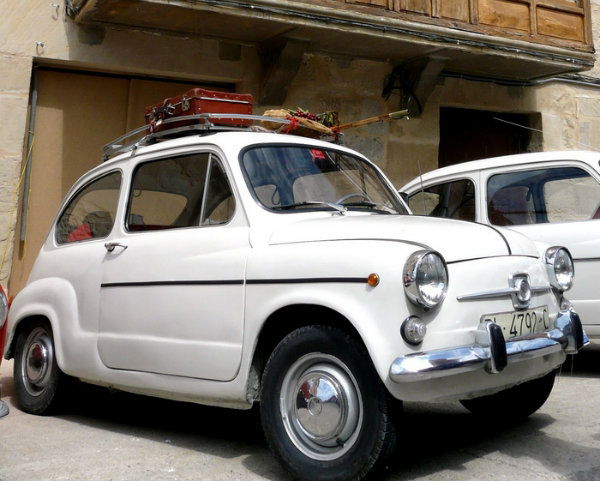 IN ANY conversation about automobiles and the reputations of the countries that produce them, invariably stereotypes will abound.
For example, a discussion of exceptional automotive engineering will most likely include mention of Germany's BMW or Mercedes Benz.
How about luxury? Certainly Britain's Rolls Royce or America's Cadillac are obvious candidates. Speed? Try Italy's Ferrari or Maserati. For efficiency and durability? Certainly some of the Japanese brands should be included in that conversation.
To be sure, exceptions on many levels can and do occur. Also, the automotive industry is changing so rapidly that those stereotypes that existed in the past may no longer apply today. It might come as a surprise to many people to know that Spain is the 6th largest producer of autos worldwide and has one of the largest markets in all of Europe. This begs the question; "where is Spain" in these automotive discussions?
Consider…
In the first half of the 20th century, Spain's economy was unquestionably underdeveloped compared to other Western European countries. Spain had a substandard infrastructure, a severely limited market and a lack of technological know-how.
Most problematical however was a lack of large investment capital needed for mass production. The Spanish Civil War (1936-39) squelched any hopes of the foreign investments needed to reverse this trend.
In 1940s however a decision by the Franco government was made to establish a new national car brand using 'Spanish only' mass production. By 1950, under the denomination "Sociedad Espanola de Automoviles de Turismo", or the SEAT auto company was formed. Franco leaned heavily on his traditional allies, Italy (Fiat) and Germany's (Volkswagen) for investment and oversight.
By 1954 the use of Spanish only made components in SEAT production was at 93% from 0% in only four years— a remarkable achievement. By 1957 the company launched the historic SEAT 600 which proved to be the critical car that literally motorized Spain. It was the first car for many poorer Spaniards became the symbol of the post-civil war Spanish economic miracle.
SEAT's marketing prowess continues today as they are among the first manufacturer to successfully feature their vehicles and components through a process known as "rebadging".
For example, SEAT's Ibiza is essentially the same as Volkswagen's Polo, while the SEAT EXEO is marketed as the Audi A4. This as allowed SEAT to produce the full spectrum of product lines from some of the world's most efficient, to prize winning style designs to even motorsport and Formula-One cars.
Today, SEAT's pioneering model of rebadging and full range of production seems to be the automobile industry rule rather than the exception.
SEAT is marketed in more than 70 countries with nearly three quarters of its annual production exported outside Spain. They have made major inroads into Mexico, Argentina, Brazil, and South Africa but perhaps most notably in China, all countries considered successful emerging markets. SEAT seems poised for more continued success.
American auto giant and Ford Chairman Henry Ford II had a deep affinity for Spain. He visited often, respected Spanish culture and frequently met with top dignitaries from government and business. While still under Franco's iron-fisted rule, Ford met with future King Juan Carlos and immediately recognized the young man's diplomatic and business prowess.
Ford was convinced of Spain's future potential as a country on the cusp of rapid modernization. As early as 1972 work began behind the scenes in Spain and the U.S. to create a practical fuel-efficient "small car for the world''. In 1973 the fuel crisis rocked the world adding to Ford's production urgency.
By 1974 construction of Ford's massive Valencia manufacturing complex began and the Ford Fiesta, so named because of Henry's new connection with Spain, began. In a few short years, the Ford Fiesta was the best selling car in Britain and Germany and had made deep inroads into the massive U.S. markets.
By 1982, the Fiesta had been the best selling car in its class for six years running. Many technological improvements (e.g. anti-lock breaks, air bags etc.) were in fact, innovations born of Fiesta's cutting edge prowess. Last year the Ford Fiesta celebrated its 35th anniversary in Spain with a total of 15 million vehicles sold worldwide.
Ford's entry into Spain's auto industry and SEAT's remarkable business model were in the right place at the right time. Between 1940 and the late 1970s is a period categorized by some as The Spanish Economic Miracle. Spain's growth rate was the second highest in the world (behind Japan) and became the world's ninth largest economy. Undeniably, Spain's entry into the industrialized community was propelled in large part by its auto industry efforts.
As the SEAT and Ford experience has shown, centralised co-operative efforts, sound international management, localized research and production facilities, and the ability to produce a full spectrum of designs, are concepts not unknown to Spain.
Spanish cars may never be confused with a German Mercedes or an Italian Lamborghini but her business models are laudable.
In a sluggish world economy in general and Spain's economic problems in particular, this fact should be reconsidered.
---
Article written by Jack Gaioni