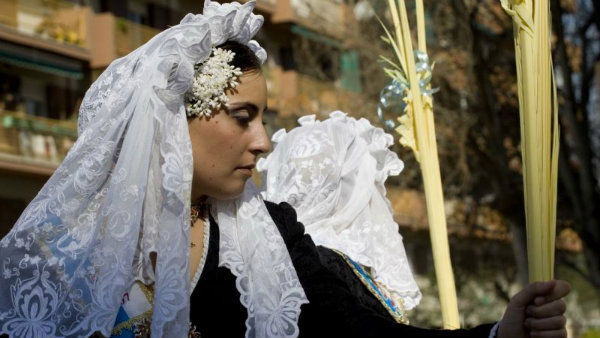 THE federation which organises Alicante city's annual mid-summer Hogueras celebrations has a new delegation regarding costumes.
They are an important – and sumptuous – part of the fiestas whose high point arrives when hogueras or bonfires located in each city district are burned on the night of St. John's day, June 24. Females young and old wear the traditional Alicantina dress, which will now be supervised by Guadalupe Samper.
"We hope to standardise the costume," she explained to an Informaciones interviewer. "It is a great responsibility," she continued, "but I feel I can help because I have studied 18th century dress and written a book on it."
The Alicante girls and women chosen as the fiestas' Bellezas (literally Beauties) wear an idealised version of an 18th century bride. They are dressing better than ever before, Samper said, although she has less enthusiasm for male "festeros."  Basing their dress on those of an 18th century countryman, they "tend to do their own thing," Samper claimed.
What would Samper criticise most about the clothes worn by the Bellezas , Informaciones wanted to know? Too much glitter and fabrics that are too ostentatious and expensive, she unhesitatingly replied. "It is possible to look very good without spending very much. We want people to consider other 18th century costumes that are less expensive but equally valid and more authentic," Samper said.