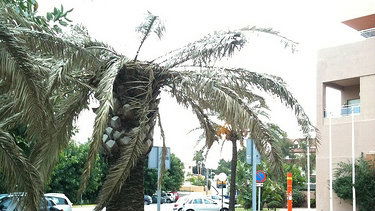 ELCHE town hall's handling of the red weevil invasion has been criticised by residents of the Palmerales district.
Palm trees in the neighbourhood are under attack from the weevil, known in Spanish as the "picudo rojo." The plague is spreading throughout the area, and whatever action the town hall is taking, it is clearly not working, they complain. The trees are full of weevils and their cocoons and not only do they smell disgusting but dead branches dropping from the bigger trees are a danger to passersby. Only the residents do anything to remove the fallen branches, they maintain.
One of the worst trees can be seen on the pavement near the site of the weekly open-air market. "It is completed infected and more branches fall each day," said a neighbourhood residents' association
The council was warned about the tree months ago, according to the association, but they were assured that it was in good condition. They have been trying without success, to arrange a meeting with the town hall. "We want them to inspect the trees one by one," a spokesman said.
The red weevil plague is unfortunately not limited to Elche and has been spread to Alicante city and other Costa Blanca towns, where more infected palms are detected each day.