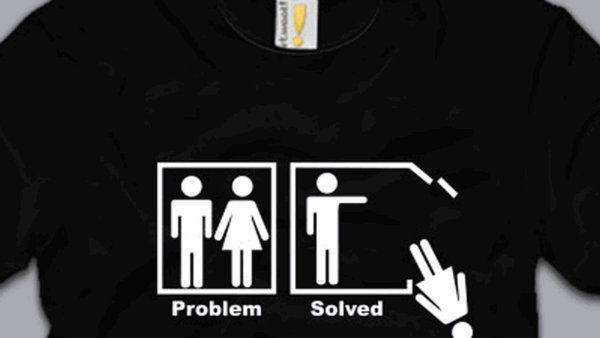 WOMEN'S and family groups are demanding that a shop in Magaluf stops selling a 'sexist' T-shirt.
The offending item has two panels side by side. In the first, which is situated over the word 'problem', there's an image of a male stick figure and female stick figure. In the other, the male has pushed the female through the panel and she falling head-first down the shirt. It is situated over the word 'solved'.
The Lobby de Dones, a women's rights organisation, has written to Calvià council asking it to stop the sale of this T-shirt with such a "terrible message".
"We're not looking at a bad joke or a case of artistic freedom. This is an example of a message that implies explicit violence against women and. As such, it must be removed from the marketplace," the Lobby said.
A Calvià council source said: 'The Lobby de Dones sent us a press release. We will evaluate it and check out the shop. If it is something offensive, we can ask them not to display it on the street. It's quite normal for stuff like that to be sold in Magaluf but in this case we don't even know what shop it was or when it was selling the T-shirt, only that it was said to have been bought in Magaluf."
The Lobby's protest was seconded by the Balearic Institute of Family Policy. It said: "Besides being an explicit message of violence against women, there is a subliminal message that the union of a man and a woman is seen as a problem."
It is believed the T-shirt came to the Lobby's attention after a teacher noticed a student wearing one in class.
The T-shirt has caused controversy since it first began to be sold six years ago. It was originally designed by a clothing line sold by US discount department store Kmart. At the time, it generated protests for its removal from Kmart stores across the US, with pickets outside a number of outlets.
What do you think?