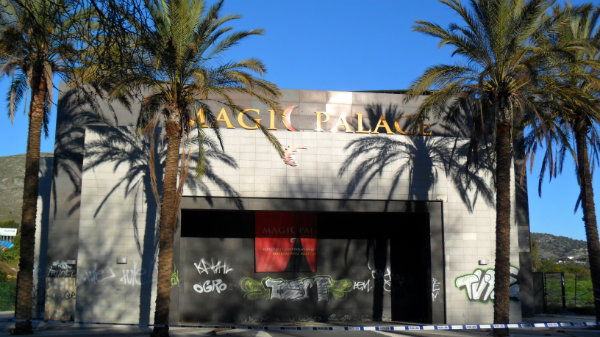 TORREMOLINOS Town Hall will demand compensation from the management of the Magic Palace which existed in the town until destroyed by fire last year.
The concession to manage the building has now been cancelled and the town hall will sue Kazan Magic Entertainment for damages. The quantity they plan to request is equivalent to the amount they should have received from the company from the day of the fire until now, which is more than €130,000. They will also request to keep the deposit of €1,402 handed over by the company when the agreement began.
The cause of the fire which destroyed the 'Magic Palace' will probably never be known as it was demolished without informing the police. The police were waiting for the demolition so they could supervise it and search for any evidence, as it was too dangerous to enter the building, which was seriously damaged and could have collapsed.
However, in June last year the Mayor of Torremolinos, Pedro Fernandez Montes, signed a demolition order and the demolition was carried out under municipal supervision the following month. It was charged to Kazan Magic Entertainment SL for €46,850, which the local press reports has not yet been paid. Neither the town hall nor the company informed the National Police, and by the time they arrived on the scene, the Magic Palace was reduced to a pile of ash and rubble.
It took firemen hours to put out the blaze on February 18, 2011, as they were unable to enter the building due to the high temperatures and the risk of the roof collapsing. Fortunately, no-one was injured.
The Magic Palace, built in 2002, was unique in Europe, but reportedly never reached the success which the owners had hoped for when it opened in July 2006, with a municipal concession for 50 years and an €8m investment. Magic Palace announced in 2007 that it was to suspend shows due to serious disagreements between the director, Hans Kazan, and the main shareholder of the company, Bram Bakker. Bakker decided he no longer wanted to invest money into a project which he was not sure would be profitable. Magic Palace never opened again and the three Dutch magicians who performed there, Kazan's sons Oscar and Renzo and daughter-in-law Mara, took their show elsewhere.
The yearly fee of €72,121 was not paid for some time, and although Torremolinos Town Hall wanted to recover the building, it was recommended that they wait at least 10 years, to avoid the huge costs. However, the land will now once again fall into the municipality's hands.
DAMAGES: The Town Hall is demanding damages