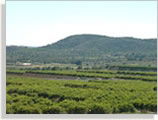 COSTA Blanca parents have warned of a man who could be a potential child snatcher.
Police have been alerted about the man, who has been seen acting suspiciously near children and who tried to grab a youngster at the weekend.Anyone seeing the man, believed to be of Moroccan origin with a slim build, about 5ft 10 ins tall and with dark brown hair and a grey fringe, should immediately contact the police.
The man was originally spotted in Entre Naranjos on Saturday watching children for an hour as he sat nearby with his phone. On Sunday, he returned and grabbed Donna and Martin Veryard's eight-year-old daughter around her wrist and collar. She kicked, fought back and ran off and the man then sped off in a white Peugeot Partner van.
"I have three children and I have sat them down and gone through what to do if anyone should try to grab them. Luckily Ronnie fought back and ran off. We are very lucky she is still here and we now urge all parents to be cautious and look out for this man."
Donna's children had been staying at a friend's in Entre Naranjos on Saturday night when they joined a group of youngsters playing outside. They all ran off chasing a ball leaving Ronnie on her own. The man grabbed her when she was returning to her friend's mothers.
Another boy saw what happened and chased the man who had left the van running and had the back door open. Police were later given an accurate description of the man.
"They are taking it very seriously and questioned all the children," Donna added. The following day police set up road blocks. They stopped drivers in white vans and questioning people."