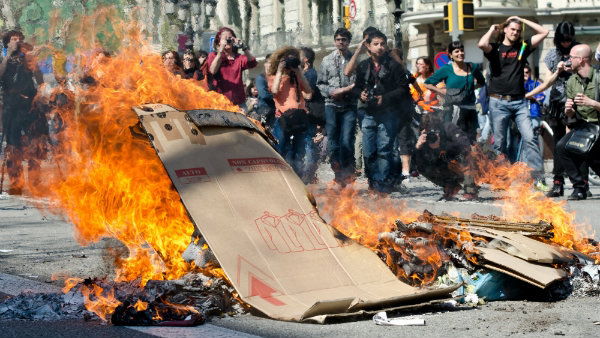 SPAIN is set for its Second General strike in eight months next Wednesday.
Public transport could be badly hit and the centres of major cities effectively closed by protestors. But it seems unlikely the nation will grind to a huge standstill with schools and government offices expected to remain open.
The Union General de Trabajadores (UGT) has called for everyone affected by the present economic crisis and government cuts, including workers, consumers, students, pensioners and the jobless, to join in.  The government has criticised the strike, saying it will not help solve unemployment.
But with feelings high in some quarters over austerity measures and national unemployment at 25 per cent, both the UGT and Union Comisiones Obreras (CCOO) are hoping for a massive turnout. Violence erupted in the centres of Madrid, Barcelona and other cities during the last General Strike on March 29 and much of Spain – especially in the major cities – was brought to a standstill as buses, and trains were left in their depots.
Some flights were also affected, with easyJet, Ryanair and Iberia all cancelling services. While many shopkeepers tried to open, some malls were effectively closed by pickets stopping the public from entering.
The UGT claimed a 77 per cent turnout nationally, with 97 per cent in industry and construction in March. Should support again approach these levels then widespread disruption is likely.