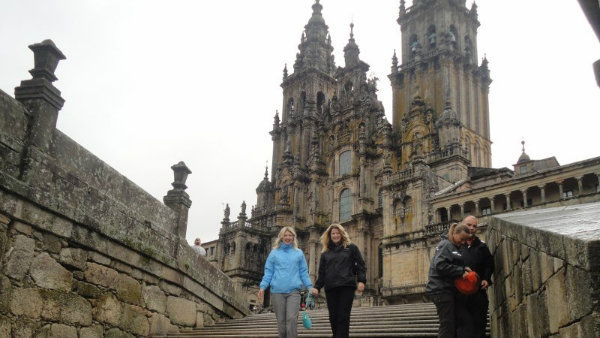 ONE young lady's determination and commitment to help others went a step further recently as she walked 100km along the Santiago de Compostela pilgrimage route.
Ruth Cunliffe, from Torrevieja, was joined in the challenge by her sister Roanna Bland who flew over from the UK especially for the trek. They spent a week being modern day pilgrims covering the countryside route ending at Santiago's Cathedral.
"We only did it for a week but we met people that have been walking for months trying to discover themselves. It was a really good experience and you are walking through quite diverse environments. There is a real spiritual feeling," says Ruth.
The 31 year-old went on the walk to raise funds for Reach Out Torrevieja, a charity that works with homeless and needy people in the area and is currently helping 26 families providing them with food and a drop in centre service.
Ruth's involvement with them started in March and since then she has been helping out a Moroccan lady called Yamina picking her up each week and helping her find work cleaning offices. Previously, she felt a desire to do some charity work and became involved with Create for Children, a charity that her partner's brother set up with Eoghan Ryan in Valencia to support the children's home in Gandia.
They completed the Camino de Santiago route in August along with 15 other walkers but Ruth and Roanna were unable to do it at this time so took the trek on by themselves in September. The groups pulled together the money they all raised collectively and last Thursday Eoghan travelled to Torrevieja to visit the Reach Out Torrevieja centre and to donate 2000€ to the work they do. Ruth is now already planning her next big fundraising challenge for next year.
For more information on Reach Out Torrevieja visit www.reachouttorre.weebly.com or Create for Children visit www.createforchildren.com