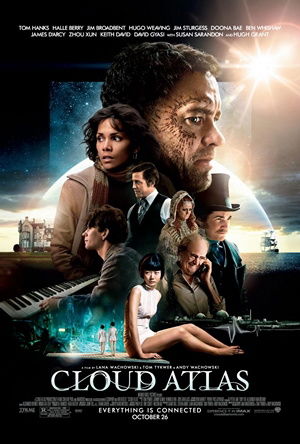 CLOUD ATLAS has received some good reviews since it was released in the USA at the end of October.
On the movie review site Rotten Tomatoes, 77 per cent of the 45,897user ratings liked it and gave it an average of 3.9 out of five. At its September premier at the 37th Toronto International Film Festival, it received a 10-minute standing ovation.
It is expected to hit cinemas in the UK, Spain, France, Australia and Japan early 2013.
Part of this movie were filmed in Mallorca, Spain's Balearic Islands, with filming continuing around Halle Barry's broken foot, which she injured during a day off in September last year. Other film locations include various places in Scotland and Germany.
In addition to Barry, other actors include Tom Hanks, Hugh Grant and Susan Sarandon. It was adapted from David Mitchell's novel by Tom Tykwer and Andy and Lana Wachowski, who also direct the movie together.
Warner Bros describes the movie: An exploration of how the actions of individual lives impact one another in the past, present and future, as one soul is shaped from a killer into a hero, and an act of kindness ripples across centuries to inspire a revolution.