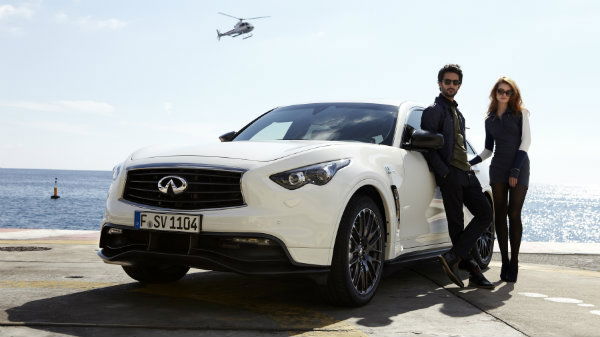 THE most powerful and expensive Infiniti ever made is the realisation of double F1 World Champion Sebastian Vettel's wishes. The Infiniti FX Vettel Edition features more focus and ability than standard. It is endowed with a bespoke aerodynamic, aesthetic and technical nature that draws on Formula One practices. The first cars will be delivered on March 2013.
In the journey from concept to production – the company said – Red Bull Racing's Sebastian Vettel was instrumental in the model's development and, as part of the test driving team, in providing the crucial feedback needed by the engineers to bring his sporting vision to life. The German driver continues to be central to the FX Vettel project by participating in the VIP hospitality for the 150 people around the world who will join him in this most exclusive of motoring clubs. Each Infiniti FX Vettel Edition is powered by a naturally-aspirated 420PS 5.0-litre V8 engine which offers balanced performance throughout the speed range of up to 250 km/h (limited) and an acceleration time from zero to 100 km/h of 5.6 seconds.
Lighter and more aerodynamic, with more downforce at high speeds, the FX Vettel Edition uses the same standard of carbon-fibre as the Infiniti-partnered Red Bull Racing Formula One cars, and an Alcantara-trimmed cabin to Sebastian Vettel's design.
The Infiniti FX Vettel is available only in Moonlight White, and is priced from €120,000 (depending on country), with the carbon rear spoiler available at an extra cost.