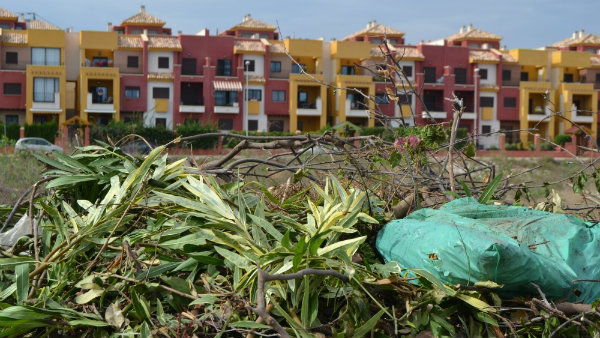 RESIDENTS angry at the state of neglect on the Orihuela Costa and the build-up of garden waste along the streets have taken to the streets in protest.
Around 80 people demonstrated outside the Town Hall in Playa Flamenca just weeks after a previous protest failed to get a response from the Councillor for the coast, Pedro Mancebo. C.L.A.R.O. Councillor Bob Houliston, who organised the gathering, said, "It has reached the point that residents are coming out to protest as they feel that strongly and it is a question of the government putting the necessary resources in to the job and they are not doing so."
As the demonstrators dispersed, Euro Weekly News was taken to an area in Lomos de Cabo Roig which is being used as some sort of transfer point for green waste. Directly opposite the luxury apartment block Royal Park Spa lies a mountain of rubbish.
Disgusted residents who live in the apartments overlooking the eyesore in Calle Tourinan say it first started to appear in July. They say the Town Hall issued leaflets and emails directing residents to dump their garden waste in the containers here, but there is only one container that is not accessible due to the waste piled up in front of it and two more just metres down the road in a car park are closed.
Beryl Stockton said: "It appeared overnight. The smell, flies and mosquitoes are horrible and we are told the area will become an eco-park but what does that mean? We will fight it and have put in a denuncia against it. We are just really disappointed and no one from the Town Hall will discuss it with us."
As parts are cleared, more waste is piled up and residents are demanding the Town Hall find a more suitable site not in a residential area.