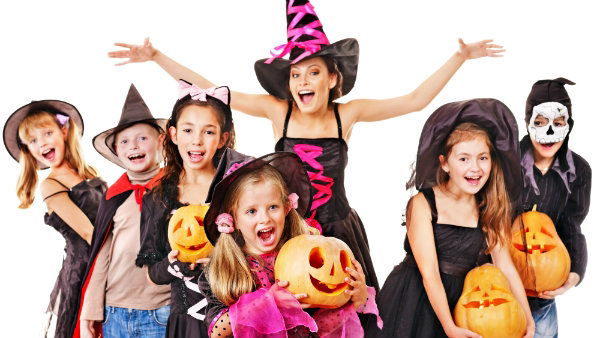 BY THE time you read this you, Halloween will have passed and the sight of the Grim Reaper himself, wandering the calles of your pueblo, probably won't scare or surprise you much. Probably just some stray partygoer yet to find his way home, right?
Now that the candy has been handed out and kids the world over are suffering sugar withdrawal symptoms, all that remains is to reflect on how widespread this originally Celtic tradition of All Hallows' Eve has become. The US may have embraced it and finessed it into the spectacle it is today, but it all started as Pagan ritual in Ireland, called Samhain, or a celebration of summer's end.
Is it so popular because we actually enjoy being a little spooked… in a nice controlled environment, of course? How else can you explain the popularity of the Haunted House and Ghost Rides of the world? While we may not wish to dice with death, per se, the ultimate inevitability of it is both a curiosity and a preoccupation, be it subconscious or not. Every culture reveres traditions of the dead and gory, just look at the Mardi Gras, the Buddhist Bon Festival in Japan and remember, remember the 5th of November – Bonfire Night – which essentially celebrates a day of scuppered terrorism culminating in the symbolic burning of the perpetrator. Ghouls, ghosts and the dead are big hits the world over.
In Spain and Latin America, the 1st of November is All Saints Day, also called Dia de los Muertos, and is followed by All Souls Day on the 2nd – a time when the dead shall rise again, returning to their homes. To mark the occasion people clad entirely in black pay their respects in the cemetery, leaving offerings or flowers, then hot-foot it to the theatre to see a production of Don Juan, as has been the tradition for more than a century. Saints, it seems, are all-important in our host country.
Forget birthdays, here it is the Saints'Day (most Spanish names tie in with that of a Saint, which is allocated to a day) or Dia de Santo that is celebrated with gusto. If you're invited to one, do bring a present or you will be left red-faced, as well as empty-handed. Normally the birthday and saints' day are on two separate days, but parents truly devoted to the tradition grace their offsprings with the corresponding Saints Day name, so you may well come across old goodies like 'Hilaria' (August 12) or Fermin (July 7) in your travels in Spain.
Not knowingly connected to any Saint of significance, I shall swerve Don Juan and making any sacrificial offerings at the cemetery. Instead, I plan to watch a hat trick of Omen, Friday the 13th and Final Destination to mark el Dia de los Muertos, accompanied, of course, by the large bowlful of goodies collected while scaring the households of Mallorca witless. And if my vampire costume doesn't do the trick, I shall have to send in the heavies, in the shape of two kids and one dog with fangs and devil ears to collect the treats. Boo!