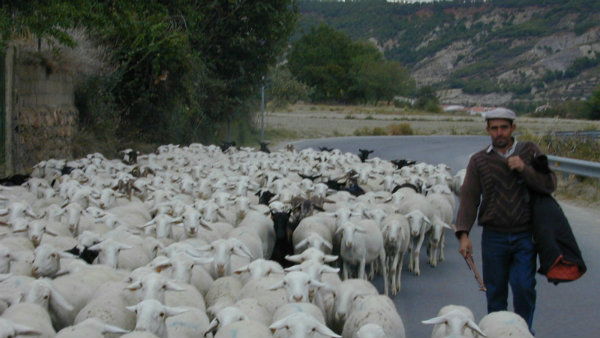 TRULY, the village was the easier place for making social comparisons and generalised learning. The surrounding countryside was totally perplexing. There, life was slow and habitual. Time stopped. It never existed. Not only was time 'changeless', so were the people – same black clothes day after day. The 'mañana syndrome' was born in the country. It didn't just thrive. It became gender encapsulating and 'legendary'.
My wife and I and our oldest son used to walk in the hills and frequently come across those desolate, dilapidated farms growing nothing. They were comprised of live-in company in the form of a few scrawny chickens and a grunting pig or two and one donkey. It had to have been an incredibly rough life further complicated by little to eat and most certainly nothing seen growing anywhere. Once in a while, you observed a few banks of rocks wherein a plateau or terrace would be created for growing. But nothing was ever planted. I used to joke that the farmers were so tough they ate the rocks. "Hey, Maria. Wander over there to rabbit grove and bring back one of those large black rocks to eat. I fancy one of them today." My, I admired them for their survival instincts. I also supposed they knew the name of every lizard, fly and rodent on their cortijo's land. Changeless, timeless existence.
Meanwhile, back in the pueblo, to show anyone you were in a hurry was to let down your guard. 'Prisa' (haste) demonstrated to the village you were an impetuous personage connoting greed – wanting to get somewhere and be something above the rest. Before you could 'go', in a rush or not, you had to dismiss yourself calmly from your surroundings. Then, observe all basic cultural etiquette. While slowly driving down the road with your entire arm hanging out the car window, protocol required you to stop and chat with your dear neighbour, even if you had seen him just six minutes ago in the bank. Rules were rules. If you did get in a hurry, disaster followed. The road was composed of deep ruts, sharp asphalted edges to slice your tyres, and just inches off the blacktop would put you over the crest of a cavernous dry-wash where you'd never be found until the next rains.
Maps were impossible to obtain. The Spanish military was obsessed with being invaded by the Moors and hence no maps were sold. Signposts were all put up by maddened souls and disgruntled generals passed over for promotion thereby sharing their 'attitude problems' with anyone daring enough to venture from village to pueblo. These tormented souls did their damnedest to confuse the driver by either hiding the turning sign for a major town down the road or not bothering to put up a sign at all. Everyone that lived in that town knew where to go. Sometimes that were positioned at such a sad angle, you didn't know whether to turn or go straight.
A large sign with an arrow pointing to the right meant a possible turn within the next 10 kilometres, or was a reminder of a turn you should have taken earlier. An arrow and place name pointing straight up meant keep going straight unless the road shifted from asphalt to dust (an indication you'd missed the secret turn). Asking directions was of little value, as almost no one you met walking along the road had ever been further away from their cortijo than five kilometres. Worse yet, no peasant wanted to be considered as such, so purported a reasonably sounding, positive answer and smirked to himself as he sent you on a one-way ticket deep into oblivion. One early trip to Almeria's airport (attempted without a map), took me three hours to get there and eight hours to return (finally arriving from the direction of Huercal Overa).
You also soon learned you couldn't drive any road anywhere faster than 40 kilometres per hour. Rounding any bend in the road, you could be greeted by a meandering flock of sheep and goats that claimed ownership and rights of passage more predominately than you ever did. In short, unless one really had to get somewhere for a damned powerful purpose, one stayed put. Home, sweet, safe and unconfusing home. You were trapped and held captive by circumstance and soon became 'Mediterranean- minded' and complacent whether you wanted to or not!