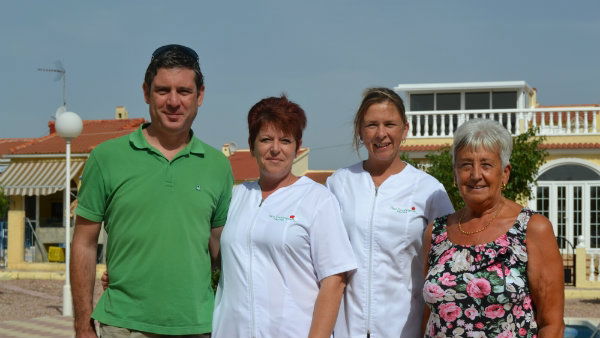 AROUND €1,600 was presented to the Paul Cunningham Nurses (PCN) charity last week which was raised from a recent football tournament.
The event was organised by Stephen Ford, a policeman from Sheffield who bought over a team from South Yorkshire Police and Giffnock North, Scotland, to play two local teams. It was in memory of his friend's wife Lisa Rhodes. She sadly passed away last year from breast cancer and was cared for by the dedicated nursing team from PCN. On Thursday Lisa's husband Alan, accompanied by fellow fundraiser Jill Pickering, donated the proceeds of the tournament, raffle and auction to nurses Susie McCrossan and Sarah Plant. Alan said, "You really do need them, they make such a difference and they can offer that emotional back up as well."
Following this year's success, 22 policemen have already booked to come and play in next year's tournament to be held in Playa Flamenca on September 28 2013.