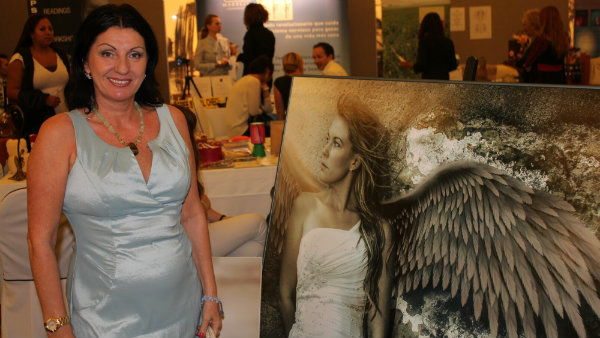 THIS year's Mind Body Spirit Festival was "the best yet".
"It just gets better and better each year," said organizer Jacinta Anne Hannon, who has been holding this festival for around 20 years. For the past eight years it has been held at the H10 Andalucia Plaza Hotel in Puerto Banus. "People are going through challenging times and are realizing there is more to life," said Jacinta, whose "passion in life is to help raise awareness of the spirit. "This is the best Mind Body Spirit Festival that I have done to date. Around 50 per cent of those who have stalls here this year were at last year's."
In addition to the various physic mediums, tarot and palm readers and fortune tellers, and an animal communicator, there were also holistic and massage therapists, and medical companies as well as artists and photographers and even a burlesque dancer and motivational teacher.
EWN was also present with a stall offering free gifts and sangria to all festival goers.
Debra – the charity for Butterfly children – had a stall there. "We are invited to have a stall free here each year, and it is always successful, said Janine Forbes who is in charge of the two charity shop's volunteers. "It helps raise awareness and people can see a selection of the items we sell at the shops. It also is quite timely as from October 25 until 31 it is awareness week for EP." New charity 'A Ray of Light' had a tombola stall to raise money to help children, teenagers, single parents, the elderly, and people unfairly imprisoned in Spain.
There were also a variety of stalls selling crystals, jewellery, holistic and organic foods and natural beauty products as well as books and music. Many of the stall holders offering services and therapies gave a 30 minute talk. There were 18 each day.
Marbella Chiropracters offered a free spinal check to show people their posture issues. "Around 10 per cent of those who had the check done took up our special offer for a full consultation at our office," said Dr Mark Lane.
For Petra Fürup, a German Shiatsu therapist, and Gabriella Mensch a Swiss Yoga instructor, this was the first time attending the festival and shared a stall. Petra, like many other massage therapists attending the festival, offered for a good price a chance for festival goers to experience what she can do. Like many others, they plan to be at next year's festival.
Many festival goers also keep coming back each year. Linda from Belgium who has been in Spain 27 years has not missed one yet. "It is always busy at these events and I always come away inspired and uplifted. Every year is a bit different," she said.
---
Article by Nicole Hallett
---