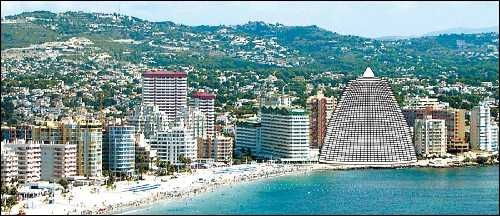 LOCAL pressure groups look to have lost their battle to prevent a 27-storey hotel being built on Calpe seafront.
Despite strong protests from local Community Owner Associations, the Supreme Court of Justice in Valencia has given the final go-ahead for the hotel complex to be built six metres from the sea on Calpe beach front
It is anticipated the project will start early next year on a site next to hotel Esmeralda and adjacent to Fox's Bar.
The on-off planning saga started in 2004 when former Calpe Mayor Javier Morató granted permission for the hotel to be built and foundations were subsequently excavated. After corruption allegations, Morató was eventually thrown out of office and the newly-elected PSOE government promptly denounced the project claiming it was too close to the Blue coastal building line and that the swimming pool and basement levels were dangerously below sea level. The 'Denuncia' was successful and all work ceased.
But the legal see-saw continued when the local developer claimed the 'Denuncia' was itself illegal, saying it should have been submitted immediately after permission was granted in 2004.
His appeal was upheld and although the Attorney General's office has recently given a glimmer of hope to the Community of owners by promising to 'carefully study' their latest appeal, the project is expected to go ahead.
An unofficial statement from Calpe town hall says the whilst the council are checking the plans to ensure they comply with all the legal requirements, they are also trying to negotiate with the builder to reduce the height of the building which at the moment is three times taller than the nearby Esmeralda Hotel.
There are fears that if the project were to be killed off, the developer could sue the town hall for millions of euros for breach of contract.
---
Article by Benny Davis
---