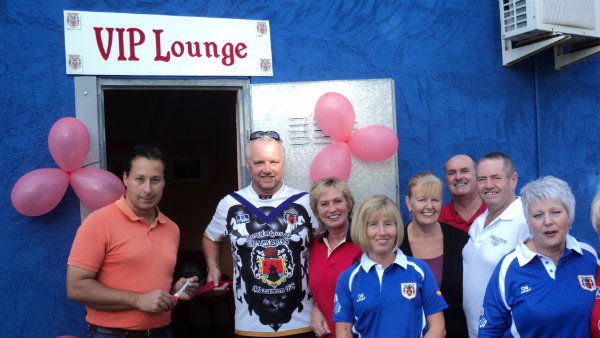 JOSE Rodriguez, President of Mazarron Football Club, opened the new VIP Lounge at the Estadio Municipal, Mazarron prior to yesterday's home game against CD Algar.
Sunday's game was sponsored by local business Healthy H2O and their guests were treated to a buffet prior to the game. They were also entertained in the VIP Lounge at half time and after the game when several Mazarron players, including Diego the Club Captain, Pollo and Barrachina called in to enjoy a drink with the sponsors and other guests.
As part of a campaign to promote awareness of the football club and attract new sponsorship, Mazarron FC, in conjunction with Los Amigos de Mazarron FC, has produced a leaflet in both Spanish and English, detailing the various sponsorship opportunties available to local businesses and individuals. These include match ball sponsorships , player sponsorships, ground advertising boards and full match sponsorships.
Prices for the various packages range from just €30 for a match ball sposnorship to €100 for a ground advertising board which includes artwork and installation. For full details please contact Martin Vale on 634 342 294 or email [email protected]
TWO controversial decisions robbed Mazarron of a first victory of the season against second in the table CD Algar at the Estadio Municipal.
First, young striker Panocha was sent off shortly after Mazarron had taken the lead in the 74th minute. Then, five minutes later, a CD Algar forward dived over the outstretched arms of Mazarron keeper Jose Iker and a penalty was awarded from which Veiga equalised.
The match finished 1-1.