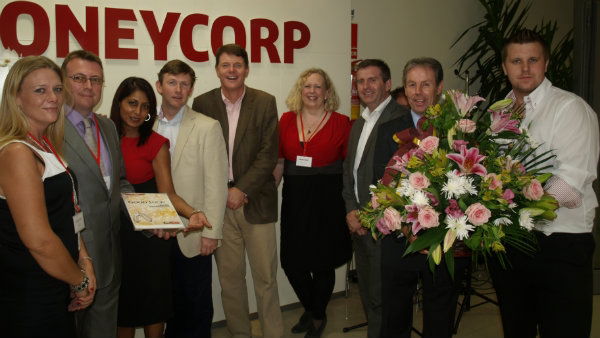 MORE than 100 expats and local guests attended the opening of Moneycorps office in La Cala de Mijas last night (Wednesday).
Celebrations kicked off at 6pm and guests partied into the night. Entertainment was provided by a roving magician 'Mr Magic' who wowed the crowd with his card tricks and had them scratching their heads as he seemed to magically teleport objects. Guitarist David McLaughlan provided the background music that set the scene to an enjoyable night. Canapes provided by Deli Fresh Go caterers went down a treat and the drinks were plentiful.
A raffle of three prizes was held with the numbers drawn by the three visiting heads: Group CEO Mark Horgan, Divisional Managing Director Andrew Woolley and Head of Private Clients David Prendeville. Third prize was a bottle of Moet and Chandon and second prize a Tassimo coffee machine, won by Kristian Rubiano and Sean Vosper, both from Your Viva real estate. Magnus Sjobert, CEO of Diamond's Code won the first  prize, a luxury hamper.
Moneycorp has been on the Coast nine-and-a-half-years, during the good and bad times and their team has been with them a long time. "At Moneycorp we believe in continuity," said Stephen Tiley Regional Manager. "People tell me we are the friendliest and most professional foreign exchange company on the coast."
For more than six years Moneycorp Spain was based in their Puerto Banus office. The decision to move to the premises in La Cala de Mijas was for 'business reasons', according to Regional Manager Stephen Tiley. "No matter what events we had we didn't see many people', said Stephen. "In the two-and-a-half weeks since we have been here 17 passersby strolled in saying they had heard about us but couldn't get down to Puerto Banus to see us, so this business decision has proved successful already."
Another benefit to the new location is parking. While previously customers had to park in an expensive car park, or park a few streets away, in La Cala de Mijas there is free parking right outside. It is just a 20-30 minute drive midway between Benalmadena and Marbella.
Moneycorp helps people "move money from A to B without getting ripped off," said Group CEO Mark Horgan. Customers can carry "41 currencies at any time. It is the Rolls Royce of International payments."