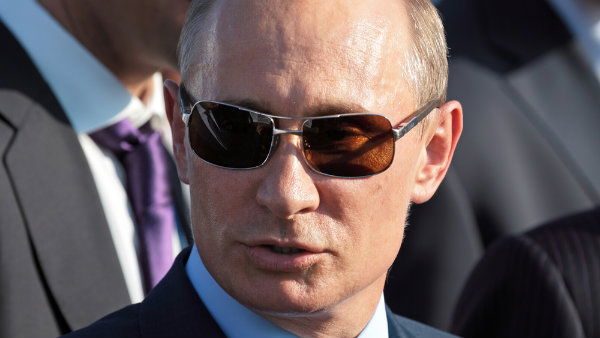 ONE in every five Russian women would like to marry Vladimir Putin, according to a recent survey marking the Russian President's 60th birthday. Just 43 per cent responded that they 'definitely would not', while 6 per cent said they 'definitely would' and 14 per cent said 'probably'. The survey, for an independent polling centre, canvassed almost 2,000 women across Russia.
During the 12 years he's led Russia, Mr Putin has carefully polished his public image as a caring man of adventure, frequently appearing bare-chested for cameras. He's been shown wrestling heroically with a python after it 'escaped' from a Moscow zoo. Tranquillising a tiger, putting a tracking collar on a polar bear and using a crossbow to extract tissue from a whale.
He's posed topless riding a horse in Siberia and flown on a fighter jet, a bomber and an amphibious firefighting aircraft. Last year, he dived into the Kerch Strait in the Black Sea and, amazingly, soon 'discovered' fragments of two ancient Greek urns. His spokesman, however, was later forced to concede that the discovery was set up.
Indeed, Mr. Putin's recent stunts seem to be misfiring and the subject of fun rather than flattery. Like his attempt to lead white Siberian cranes towards their winter habitat when he flew a microlight dressed in white to fool the birds. And ended up looking like a character from Bowie's Space Odyssey phase. Or skydiver Felix Baumgartner, waving his hands like Bruce Forsyth at a Liberace convention.
Of course, the main reason 20 per cent of Russian women would want to marry him is because he could give them the lifestyle they desire. Who wouldn't rather live in the gilded halls of the Kremlin than in Siberia?
I'm reminded here of that old Mrs Merton gag: 'So, what first attracted you to the millionaire, Paul Daniels?'. Mrs Merton posed this question to 'the lovely' Debbie Daniels (née McGee), a guest on The Mrs Merton Show.
As I recall, the magician's glamorous partner fell about laughing in response. This must be one of the most over-repeated one-liners on TV. And kudos to Debbie Daniels for being its first recipient, although it could equally apply to hundreds of other 'celebrities', footballers and now, it seems, Russian presidents, too.
Nora Johnson's thrillers 'Soul Stealer' & 'The De Clerambault Code' (www.nora-johnson.com) available from Amazon in paperback/eBook (€0.89; £0.77) and iBookstore. Profits to Cudeca.