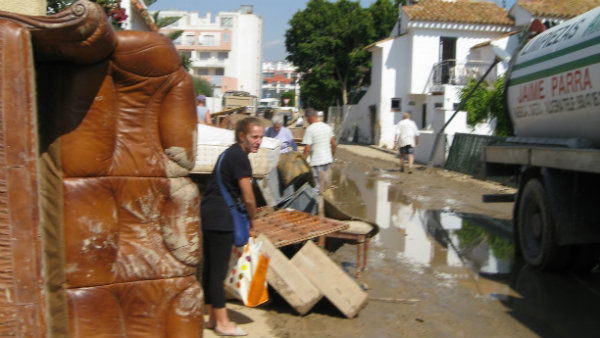 A MONTH on since the floods hit Almeria, many locals are still coming to terms with the aftermath.
The last report from the Consorcio de Compensacion de Seguros – the public organ managing insurance compensations – said that the first round of damage assessments was over and thus the first payments to those insured had been done.
So far in the Almeria province, the Consorcio has received 3,350 applications for compensation.
Those who were not insured, however, still have to face their mortgages. In several cases, they have been denied adjustments to their monthly instalments and they are also in need of basic furniture and household goods.
"This is precisely the people we intend to help with the fundraising," Vera town hall Secretary General, Pedro Lopez said, who acknowledges that the results of the recent fundraising drive "are still very poor, because people think that the Administration will sort out all the problems of flood victims, when actually individual donations are necessary in these cases."
The town hall is currently waiting for the central Government to specify actions for non-insured victims of the September floods, including tax exemptions. But they were recently delayed again, due to the storms in Zaragoza and Huesca.
"Once they issue the regulations, and depending on the amount raised, we will be able to distribute the help," Lopez said.
In the meantime, the local Red Cross office in Vera can provide "as many clothes as to help 1,000 families," they said. "We also have food, kitchen equipment, bedding, crockery, cutlery, but the fact is, so far, only 17 families have come here asking for help."
Although the Red Cross will welcome any donations, they have not opened any specific bank account or are taking specific actions to help flood victims.
The Euro Weekly News has an email for those needing help or wishing to support the cause. Let us know at floodsupport@euroweeklynews.com.