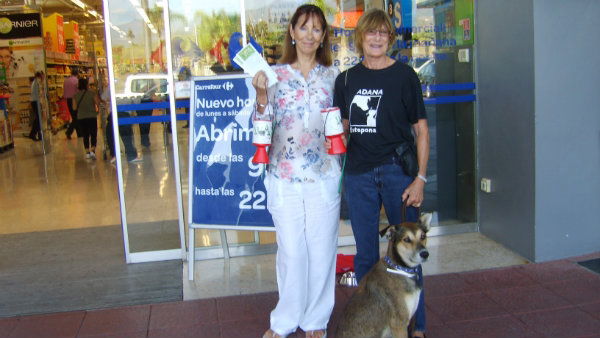 ADANA, the Estepona-based animal rescue and rehoming charity, joined charities around the globe in celebrating World Animal Day.
October each year sees the coming of this special day, when animal charities world-wide collect funds to enable them to carry out their work of caring for animals.
Dozens of ADANA volunteers were out with their collecting tins all over Estepona and its surrounding villages.
As usual, ADANA champion collector Helen Oldfield topped all efforts with a marvellous €1300 in her tin, surpassing her previous records.
The total collected was a very welcome €4,000, all of which will go to help the rescue and rehoming charity, which currently has almost 200 dogs awaiting adoption at its kennels in Estepona's Pedregales Park.
ADANA would like to thank all who helped and contributed and anyone interested in rehoming an ADANA dog or volunteering at the kennels should contct Helen on 952113467 from 10.00 to 14.00 Mondays to Fridays or visit the ADANA website at adana.es
Meanwhile, well-known author and expert on local history Michael Barry will be giving an illustrated lecture on the history of Andalucia in aid of Estepona-based animal rescue charity ADANA.
The talk takes place at the Palacio de Congresos, Estepona, at 8pm on Monday, October 22. Admission is €8 which includes a glass of wine and a chance to ask questions of Michael after the talk.
Tickets can be purchased from Longmans Bookshop, Plaza Manilva Estepona, or the ADANA shop in Calle Padre Cure, Estepona.