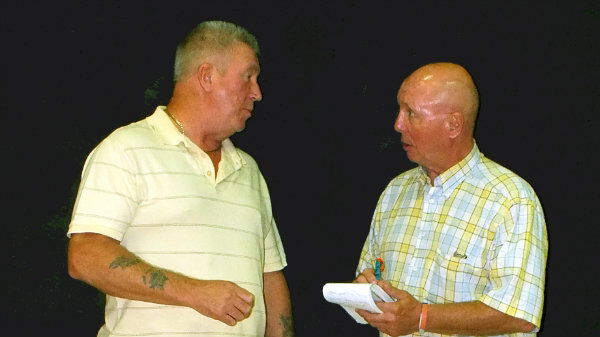 MONTE Pego Theatre Company is in rehearsal for its autumn production, the exciting psychological thriller WHISPERS by award-winning playwright Ian Hornby.
Following the roaring success of this play in the UK, this will be the Spanish premiere. 
Directed by Jeff Corbett, the play promises to be one of MPTC's best.
New members Glenn Ingram playing Sean Ward, and Hugh Norton playing Inspector Vickers, bring a wealth of talent to this production. Glenn had great success at the Costa Blanca Drama Festival playing Choobukov in Chekhov's The Proposal for the Monte Pego Theatre Company.
Hugh took up acting as a hobby on his arrival on the Costa Blanca eight years ago and his service in H.M. Forces and consequent military bearing mean that he plays an excellent police officer.
Whispers will be playing at Rafol, on Thursday, Friday and Saturday, November 22, 23 and 24.  There are two performances on the Thursday, at 3 pm and 8 pm.  The Friday and Saturday performances will be at 8 pm.  The Box Office is now open – tickets at 12 euros (groups 11 for the price of 10) including a charity donation and a free interval drink.  Contact 635688990 or [email protected].